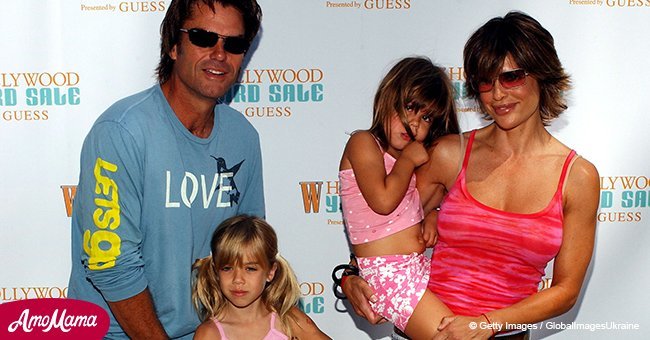 Remember Lisa Rinna's little daughters? They grew up and look just like their famous mom
The daughters of the actress and television host have grown up and the both of them bear a striking resemblance to their famous mother.
Lisa Rinna, the actress best known for her roles as Billie Reed in the daytime soap "Days of Our Lives" and as Taylor McBride in "Melrose Place," has two young daughters who are growing up to look a lot like her.
Delilah was born to Rinna and her husband, Harry Hamlin, in 1998. A second daughter, Amelia, came three years later, in 2001.
The girls are now 20 and 17 years old respectively.
The actress previously indicated that both her daughters might well follow her footsteps into a career in the entertainment industry.
"I have the feeling we're going down that path. Delilah is oozing talent. She's funny, can dance and sing... But I'm not going to be driving around to auditions. When she's 18, she can do that," she said.
Rinna and her daughters attended Tommy Hilfiger's presentation in Venice Beach, California, in 2017, and the
Delilah wore a cropped, red, black, and white sweater and striped sweatpants of the same color combinations. She completed the look with a pair of dark brown strappy heels and a pair of large gold hoop earrings.
Amelia wore a blue cropped blue sweater with red and white accents, bell-bottomed black leather pants, and heeled black boots. She put two French pigtail braids in her dark-brown hair, and wore a thinner pair of gold hoops in her own ears.
Rinna wore a baby blue striped button-up blouse - that she didn't button up very much - with a kiss embroidered on the pocket, dark blue jeans, and black heels with red and white accents on them.
Currently, Rinna is working on "Real Housewives of Beverly Hills."
Since then, Amelia has started modeling, and is appearing in a new fashion campaign for Hudson Jeans' fall 2018 collection.
She also shared back in April this year that she has been suffering with anorexia, taking to Instagram to bare her soul about the eating disorder that affects so many young women around the world.
In the post, she compared a photo of herself from 2018 to one taken a year before, where she is significantly skinnier, with her bones jutting out on parts of her tiny frame.
"Usually, when people are struggling with an eating disorder it stems from your mind, and your body is a reflection of it. I could go on and on about that time of my life, but the most important part about it was waking up one morning and deciding to stop sabotaging myself. My health, my physical health, my mental health and everything about myself. Once I got the help that I needed, shortly after the second photo was taken, I began to try to love myself for me," read part of her caption.
Today, she certainly looks a good deal healthier than she did in 2017.
Please fill in your e-mail so we can share with you our top stories!