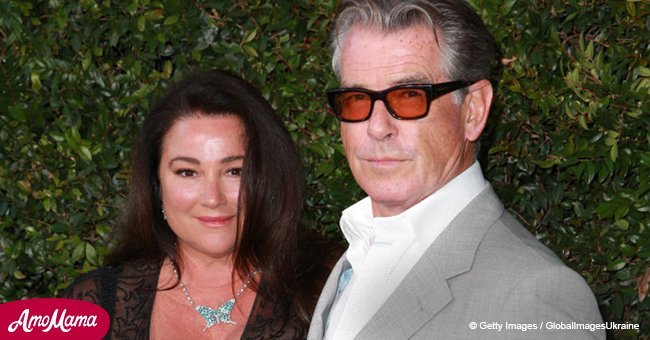 Pierce Brosnan shares the secret of his happy marriage with wife Keely

The former "James Bond" actor revealed an important secret to his happy marriage with Keely Shaye Smith. The couple celebrated their 16th anniversary in 2017, and enjoyed a sweet date for the occasion.
To mark the 16 years of their marriage, actor Pierce Brosnan and his wife went on a romantic lunch together at a restaurant in Los Angeles. The couple looked happy and relaxed as they left the establishment together.
The actor has previously stated that the key to making his marriage to his second wife work is to "just love each other."
Smith, who is a broadcast journalist, wore a white and teal dress that fell to her knees with a high neckline and metallic silver ballerina flats. The actor wore a navy blue button-down shirt paired with black jeans and slip-on sandals. Both wore dark glasses.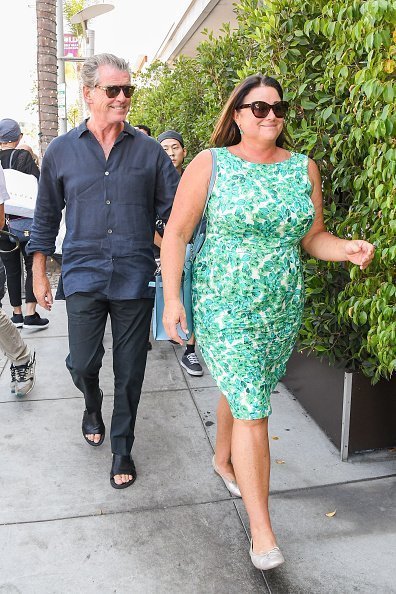 Source: Getty images
The couple was seen smiling and content in one another's company, even smiling at the paparazzi that ambushed them on their way out of lunch.
Brosnan and Smith had first met in Cabo San Lucas in 1994, while she was working there as a correspondent. Brosnan's first wife, Cassandra Harris, had passed away from cancer a few years prior.
Of her first meeting with her future husband, Smith said Brosnan was "tall, dark and handsome." She was captivated by the "mischievous sparkle" in his eyes.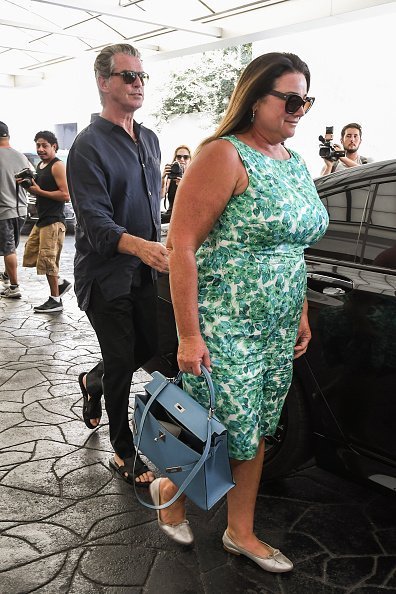 Source: Getty images
The couple married in 2001, and have welcomed two sons together in their relationship: 21-year-old Dylan and 17-year-old Paris.
Brosnan is a father to 34-year-old Sean from his marriage to Cassandra as well, and also adopted Harris' two children from her previous marriage: Charlotte (who passed away in 2013 from the same cancer that killed her mother) and 45-year-old Christopher.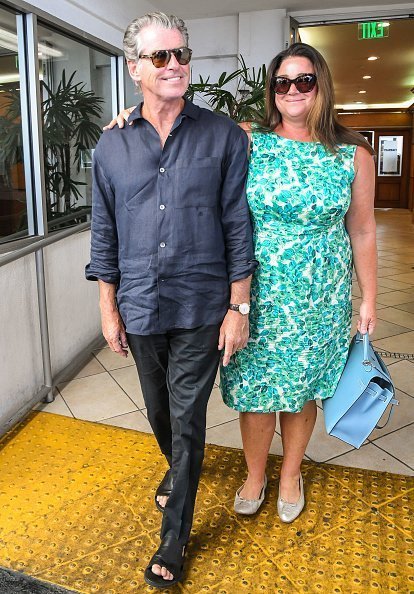 Source: Getty images
The "Mama Mia" actor reprised his role in the popular musical in the 2018 sequel, "Mama Mia: Here We Go Again."
65-year-old Brosnan and 54-year-old Smith stepped out for the premiere together in London, before heading back state-side to the premiere in New York City as well.
Speaking about the strength his wife gives him, Brosnan said:
"I love her vitality, her passion. She has this strength that I wouldn't be able to live without. When Keely looks at me, I go weak."
Please fill in your e-mail so we can share with you our top stories!