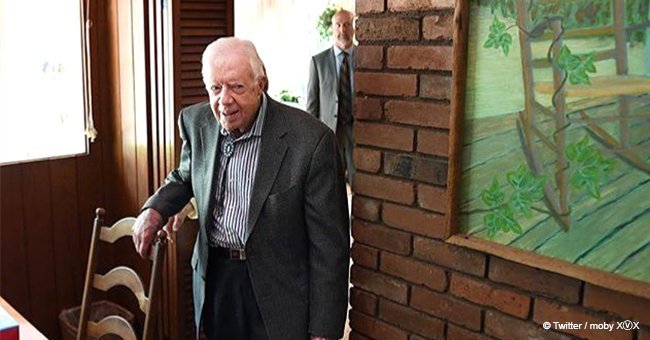 Jimmy Carter, 94, resides in the same $167,000 ranch house he built before his presidency
Jimmy Carter returned to Plains, Georgia soon after his term was completed at age 54. He lives in a modest two-bedroom ranch with Rosalynn Carter, his wife of 72 years.
In the interview done by The Washington Post, Carter and his wife just came from visiting their friend Jill Stuckey for a Saturday night dinner. They walk a half-mile to the ranch built back in 1961.
Jimmy is 94, and Jill is 91 years old. The two try to remain active, but Jill recently started using a walking stick. This hasn't slowed their regular routine visits to their friend's. Or any of the other activities the couple still partakes in.
Carter, the 39th present of the United States, arrived with his wife to their $167,000 house. He made it clear that he is here in this "peanut and cotton farmland" because he chose not to "capitalize financially on being in the White House."
Unlike Carter, some presidents had a wealthier home to go back to. But others like Bill Clinton and Barack Obama started out more modestly. They invested in private-sector opportunities and corporate speaking to acquire tens of millions.
In fact, it was Carter's predecessor Gerald Ford who first opted in to benefit from the "high-paid post-presidential opportunities." Carter intentionally did the opposite of his close friend Ford. Carter said:
"I don't see anything wrong with it; I don't blame other people for doing it. It just never had been my ambition to be rich."
In addition to the $210,700 annual pension paid to him as a former president, Carter earns his income writing books. He has written 33 of them. But even those are easily trumped in revenues by books written by recent presidents.
Carter, who left his presidency at 54, served for four years from 1977 and 1981. This means he doesn't qualify for federal retirement health benefit which requires a minimum of five years. He receives those benefits from teaching at Emory University where he's been for 36 years.
Right now Carter costs U.S. taxpayers the least of all other ex-presidents. $456,000 covers pensions, an office, security staff and other expenses. In comparison Clinton, George W. Bush, and Obama racks up over $1 million each every year.
Carter, who flies commercial rather than private jets, the norm for other ex-presidents, claims to be following Harry Truman's example.
"He's my favorite president, and I really try to emulate him."
When asked if he believes future ex-presidents will follow in his own steps He simply responds "I hope so, but I don't know."
The strifes of real financial troubles may not be appealing to others though. Carter himself was forced to sell his peanut business as soon as he came back home. It was $1 million in debt.
Like any aging man, he has also had health troubles. In 2015 he was diagnosed with melanoma on his liver and brain. He is now cancer-free.
He is able and more than willing to give back to his community, with a population of about 700, by teaching Sunday school at the Maranatha Baptist Church fortnightly. The line often reaches around the corner as persons line up.
The entire town is essentially a museum to Carter. The Jimmy Carter National Historic Site pulls in around 70,000 visitors yearly and contributes $4 million to the country's economy.
Carter goes further in giving back. He worked with Habitat for Humanity to renovate 4,300 homes in 14 countries. Before this month end, he will assist in building additional homes for poorer residents in Indiana.
But when he's done he will come back and continue to live simply. Carter says:
"We feel at home here. And the folks in town, when we need it, they take care of us."
And at the end of the day when he's had his home cooked meal, Carter will wash dishes.
Please fill in your e-mail so we can share with you our top stories!