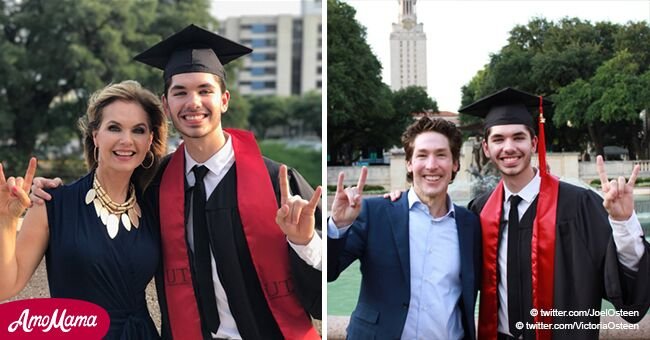 Joel Osteen's photo with his son that caused controversy

Twitter followers of the preacher were furious over these photos that many believe is a sign of the devil, but there is an innocent explanation for the gesture.
Johnathan Osteen celebrated his graduation from the University of Texas in May 2017 with his television preacher father Joel Osteen and mother Victoria. But the hand symbol they were making in photos infuriated the preacher's supporters.
Joel and Victoria Osteen have been accused of plotting with the devil after photos of them at their son's University of Texas graduation photos were seen on Twitter.
The images see them each making the 'Hook 'em Horns' symbol with their son in his graduation gown.
While this gesture has for many years been the symbol of the school's Texas Longhorn Bevo mascot, Twitter users only saw that the family were using the devil's hand signal.
Plenty of people offered up their congratulations to Jonathan at reaching this important milestone, but others were furious that the famous preacher himself would dare use it so publicly.
Twitter hit back at the couple when Victoria Osteen posted the photo to the social media site, asking them to explain why they were using the devil's hand signal, with many also saying they couldn't believe a preacher would do that.
"What symbolic signs are u showing the world? Congratulations for belonging to the [the devil] or what?" wrote user Andre Andre. "why that sign, really your teachings have uplifted us but that sign makes me concerned and worried," user J So-oabeb said.
Another suggest they just use a thumbs up, which likely would not have gone down well considering it is the symbol of the Longhorns' rival, Texas A&M University.
Osteen's sermons draw in crowds of 40,000 each week, with thousands more all over the world following a live feed of them. The success of Osteen's ministry actually prompted the Lakewood Church to buy an old arena in order to seat so many church-goers.
Please fill in your e-mail so we can share with you our top stories!