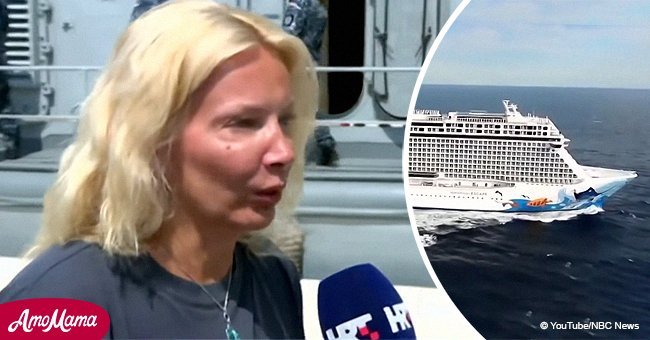 Woman survived 10 hours in the Adriatic sea after falling from a cruise ship
A 46-year-old British woman on went overboard on a cruise ship in Croatia and spent more than 10 hours paddling water before she was rescued.
Kay Longstaff survived the ordeal since the water was just the right temperatures and the sea was calm. A drop in temperature or a windy day and she might not have been so lucky.
Read more on our Twitter account @amomama_usa and scroll down for details about the incident.
Longstaff told reporters at NBC News that she "fell off the back of the Norwegian Star," and express her gratitude to the "wonderful guys" who rescued her.
THE FALL
She fell from the top deck of the ship, and medical personnel said she was lucky not to have sustained any severe injuries since falling from that height is dangerous.
A person could swallow the equivalent of two or three litres water and drown, or plunge too deep and would be unable to resurface again.
Longstaff said she remained calm and sang to herself, which kept her in a good mental state. She also credits her yoga classes for giving her the strength to paddle water without tiring.
THE RESCUE MISSION
When Captain Lovro Oreskovic realized one of his passengers went overboard, the ship turned around, and they searched for her throughout the night but to no avail.
It was only the next day, 10 hours later and in sunlight, that Longstaff was spotted and rescued. The details of the event are hazy at best.
THE INVESTIGATION
Cruise ship crew claimed that Longstaff jumped after drinking and arguing with her boyfriend earlier that night.
Another passenger said the couple had been going through a hard time the entire week. He believes without a doubt that she jumped.
He partner later confirmed that they had been drinking, but he went back to the cabin, and she was on the 7th-floor deck by herself.
CCTV camera footage confirmed his version of the events and showed that Longstaff was alone when she went overboard.
In other news, a 47-year-old mother from Queensland jumped from the upper deck of a cruise ship and plummeted to her death.
Natasha Schofield had three children aged 12 to 16, and for all intent and purposes, Schofield was happily married and loved her family. Read more about it here.
Please fill in your e-mail so we can share with you our top stories!