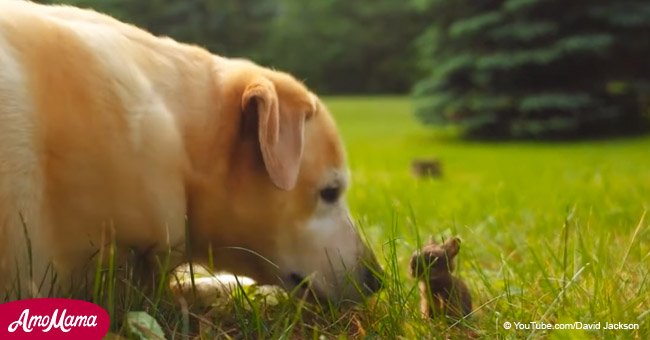 Precious moment giant Labrador and tiny baby bunny become friends
Meg, the dog, encountered a tiny, wild baby bunny and decided to keep him forever.
Shared on March 6, 2016, the YouTube video shows Meg, a Yellow Labrador Retriever, and a small baby bunny became friends.
Meg probably had no idea what to think when she first came across a baby bunny running around her yard.
Follow us on our Twitter account @amomama_usa to learn more and scroll down to watch the video below.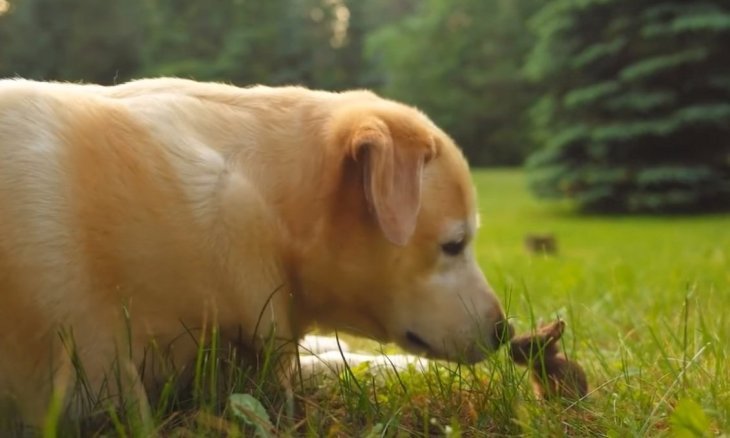 Source: YouTube/David Jackson
Though the dog was kind with the bunny, she appeared to be a little uncertain about how to act around him at first because he was tiny.
Shortly, Meg warmed up to the little guy. She even tried to give him some space.
However, the bunny was quick to leap as close as possible to the dog. The pair seemed interested in making friends with each other.
In the video, Meg can be seen nudging her newfound friend through the yard.
She followed along behind the tiny bunny to keep him safe and secure. In fact, she hardly left his side.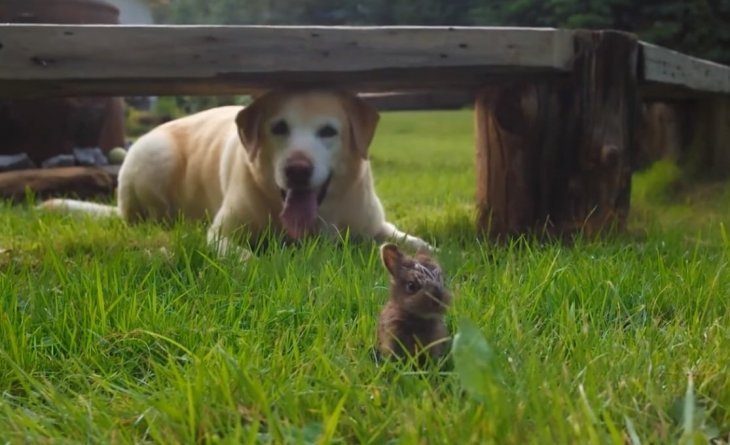 Source: YouTube/David Jackson
Meg and the bunny then seal their bond of friendship with a nose-to-nose sniff.
David Jackson, who uploaded the video to YouTube, entitled it "Are You My Mother?!"
The video has been viewed more than 942,000 times and received over 2,000 likes. A lot of netizens also shared their thoughts via comments.
YouTube user Lisa S wrote: "Oh gosh... It's so tiny!!! My heart can't handle that amount of cute!!! That bun is the size of a cricket!!!! I'm (going to die) watching this over and over again! "
"I am a constantly grumpy, irritable (and) pessimistic individual. Society (and) human nature, in general, (fill) me with a burning, nigh-uncontrollable rage. Despite thinking that dog could swallow that infant vermin without even chewing, I nonetheless find my hatred of existence inexplicably soothed by their gentle interaction. I suppose that's progress? " Bumble Douche added.
"It's like the dog can't get enough of how cute the bunny is, and all that whining is her way of saying, 'D'awwww!'" commented Doug.
Please fill in your e-mail so we can share with you our top stories!