Aaron Hernandez's ex-fiancée addresses rumors that the late NFL star was gay
The fiancee of late New England Patriots star Aaron Hernandez put down all rumors of her partner being gay, adding that regardless of his sexual orientation, she would have accepted him. 
Unnecessary Roughness 
Aaron Hernandez's defense attorney Jose Baez wrote a book called "Unnecessary Roughness" which aimed to show the sports star's last year on Earth. His ex-fiance Shayanna Jenkins-Hernandez, 29, wrote the foreword for the book, where she addressed the speculation about the NFL player's sexuality. She also opens up about the grief she felt learning of his advanced chronic traumatic encephalopathy (CTE) after his death. 
EXCLUSIVE: Aaron Hernandez's suicide notes revealed https://t.co/B63u2W3rED pic.twitter.com/iA5JnI0Cng

— New York Post (@nypost) August 18, 2018
Speaking about how she wished he spoke up about his frustrations regarding his sexuality, she said:
"I wish I had known how he felt, just so we could have talked about it. I wouldn't have disowned him. I would have been supportive." 
Adding that although she claims she never noticed signs that Hernandez was gay, she would not have had a problem with it if ever he was indeed keeping his identity a secret.
Aaron Hernandez broke down sobbing while admitting he was gay to his lawyer https://t.co/FDEoQKf2sb pic.twitter.com/XngrmjtLVQ

— Daily Mail US (@DailyMail) August 21, 2018
"There has been much speculation about Aaron's sexuality since his death. I can say this: Aaron was very much a man to me. I saw no indication that he was gay or homosexual."
Final Messages from Aaron
Jenkins-Hernandez, who took the NFL player's last name before he died, currently cares for the couple's five-year-old daughter. In his suicide notes obtained by NBC Boston, he told his high school sweetheart how much he loved her and their daughter, and that she is his angel. He then asks her to understand that this was not his plan, but God's, and tells her to let everyone know his story, which she and Baez are now doing. 
Prior to his death, 27-year-old Aaron Hernandez was serving a life sentence in prison for the murder of Odin Lloyd, who was at the time dating his girlfriend's sister. It was then that he contacted Baez to represent him in a separate double murder case, who also famously represented Casey Anthony before taking on the case. In 2017, Hernandez was found not guilty, and days later, he was found dead in his cell of an apparent suicide.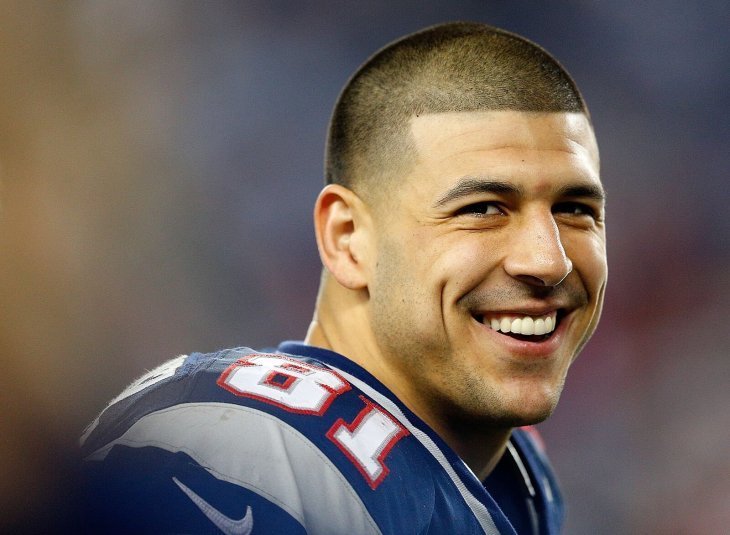 The book, which aims to highlight the NFL player's final year before taking his own life, is based on intimate conversations that the lawyer had with his client.