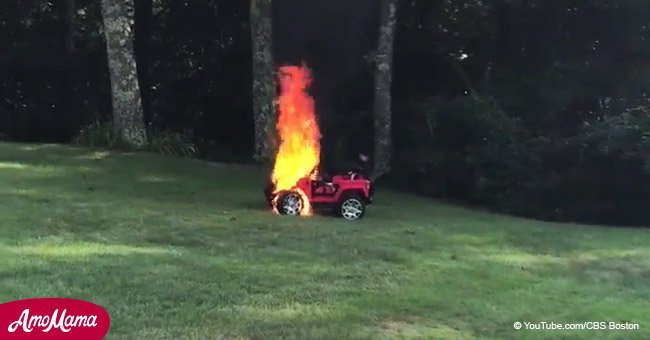 Mother rescues toddlers from toy car moments before it burst into flames
Michelle Kline recorded the aftermath of a fire that consumed the toy electric car which her two children were riding in just moments before.
The video showed a red vehicle on a lawn just in front of some woods. Large flames rose from the front of the vehicle and Kline said that a couple of minutes before, she had noticed something alarming.
"It was just kind of that of hot electrical smell and saw smoke coming out of the little hood."
Her kids were driving up a small hill when Kline realized she had to act. Luckily she wasn't far away and instinct kicked in.
She ran towards the vehicle and pulled out her 16-month old and 3-year old. She said that less than two minutes after, the toy was a charred heap which she now holds in a bucket.
Kline explained to CBS that the family had bought the "SPORTrax Awesome XL" for $500 as a birthday gfit for their 3 and 5-year olds.
After the incident, which occurred in North Andover, Massachusetts, she tried to speak with the manufacturer but they would not entertain a meeting with her.
The manufacturers told the fire inspector that "they did put a lot of fail-safes into the car to protect people from this happening," and that safety assurance was a reason behind Kline's own purchase.
Kline also expressed how unnerving the experience was:
"I think that was the really scary thing because they were buckled in and they are both little so neither of them could have gotten themselves out."
Fire Chief Bill McCarthy said that the fire began where the batteries are located in the vehicle. However, because of its deteriorated condition, it's difficult to tell.
The North Andover department notified the Consumer Product Safety Commission, fire marshal, distributor, and manufacturer. He added:
"Just to see if this is an isolated incident with this one particular vehicle or is at potential issue that it's happened somewhere else."
The kids themselves are doing fine. Their mother said that one child "said goodbye to his jeep on the front lawn" before going to bed. She mentioned that they are currently relegated to their old school pedal bike.
Unlike the Kline family's mom, this Wisconsin bus driver was a total stranger to the little girl she rescued on the street. A few days ago, the girl managed to leave her house while everyone slept.
And back in June, a father rescued his son from another burning vehicle, this time a race car at the South Boston Speedway in Virginia.
The car had hit the wall and the impact caused flames. Mike immediately rushed onto the track and pulled his son out from the wreckage.
Please fill in your e-mail so we can share with you our top stories!