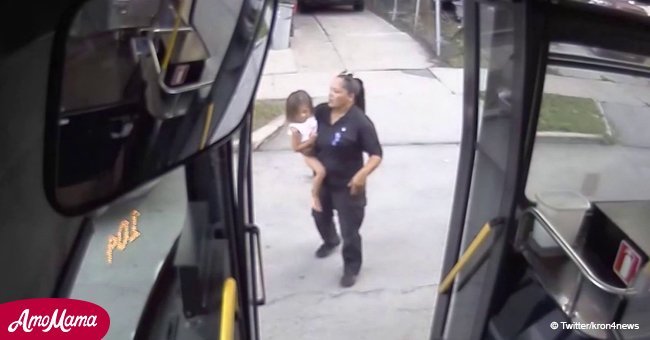 Bus driver rescues toddler wandering alone in the middle of a street (video)
A bus driver from Wisconsin, in the United States, has been praised on the networks after the security cameras of the Milwaukee County Transit System published the moment she stopped to help a two-year-old girl.
The little girl was discovered by the driver Diana Serrano, wandering a busy street wearing only a T-shirt and underwear, as the Daily Mail reported.
Diana was beginning her tour of Milwaukee on August 4 around 6 in the morning when she saw the girl in the distance.
The surveillance video of Serrano's bus captured the girl running alone on the busy street. Another driver stopped in front of the bus and took the girl to the side of the road, but he told Serrano that he could not stay because he was late for work.
The video showed Serrano gently carrying the girl crying on her bus while she called the police to ask for help.
While waiting for the agents to arrive, Serrano said she calmed the girl by showing her photos of a puppy she had on his phone.
Approximately ten minutes later, the girl's mother was seen walking down the sidewalk in search of the little girl.
The mother, who boarded the bus to retrieve her daughter, said she did not know how the girl managed to get out of her house while everyone slept.
Immediately, the police arrived at the scene of the incident and proceeded to conduct an investigation at the girl's home and why she had ended up alone in the street.
Young children are not aware of the risk represented by the street to them, as in the case of a small 3-year-old girl who went out in the middle of the night to a road and was rescued by a couple of teenagers who managed to get her out of the way before of a truck hit her.
There is always a deep sense of gratitude when one of these angels appears to care for those children who for one reason or another end up lost away from their parents, as when a pit bull took care of a two-year-old girl who was lost for two days.
The little girl's grandmother thanks the family's pet for having stayed by the girl's side while protecting her while roaming the grounds that surround the house. The girl appeared without any injury other than some tick bites and dehydration.
Please fill in your e-mail so we can share with you our top stories!