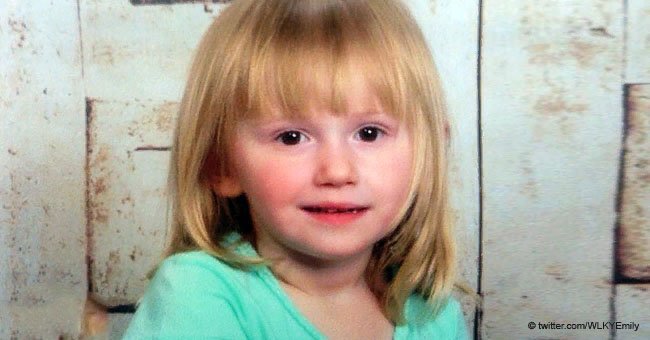 Missing toddler with autism found two days later with family pit bull
On finally locating the missing 2-year-old Charlee Campbell, family members believe that it was her dog Penny who safeguarded the girl from being harmed.
After going missing for almost two days, the worried family of 2-year-old Charlee Campbell was relieved to find her safe outside a neighbor's house.
Charlee was reportedly lost in the deep woods on the outskirts of Louisville, Kentucky, and was found in the vicinity of the Bullitt County Sheriff's Office.
According to Wave3, it was Charlee's grandmother Beth Campbell who saw the first sign of the girl's return.
Beth shared that she first spotted the family pit bull Penny, who was also missing along with Charlee, walking back home.
On seeing Beth, Penny came running towards her, and she had a feeling that Charlee was also somewhere close.
Speaking of the moment when she saw Penny's return, Beth shared that she felt confident that God was listening to her prayers.
Shortly thereafter, the sheriff of Bullitt County informed Beth and other family members that Charlee had been found at a house located within a mile's distance from the family home
It is reported that Charlee was found to be in an overall healthy condition, barring tick bites on the body and a state of dehydration.
The office of the Sheriff revealed that Charlee was recognized by residents in the neighborhood as she approached the porch of one of the local houses.
A day before Charlee was found, the authorities had released details about her physical appearance, including her height, weight, and clothing.
This helped one of the neighbors, Wayne Brown, recognize Charlee as she stood near the back door of his house.
On realizing that the girl was Charlee, Brown called the authorities. Brown offered her water until the officials arrived. Charlee was taken to the local hospital and kept under observation for one night.
While Brown, whose own brother was once missing, believed that it was divine intervention that led Charlee to his porch, Beth had a slightly different take.
In her view, it was the dog Penny who safeguarded her granddaughter from danger and harm. Beth shared that Penny would not have left Charlee's side until she finally found their home.
In an online post, The Bullitt County Sheriff's Office also acknowledged the irony of Penny finding her home minutes before Charlee was spotted.
Beth found herself unable to express the happiness and relief she felt on finding her granddaughter and considered Penny a hero.
Read more about Charlee Campbell's story on our Twitter account @amomama_usa.
Please fill in your e-mail so we can share with you our top stories!