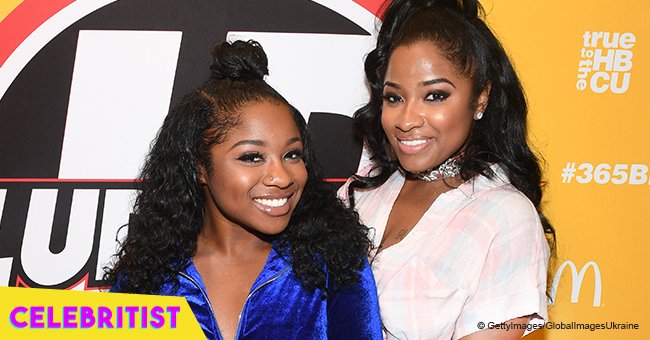 Toya Wright and daughter Reginae are twinning in recent pic as they flaunt curves in pink dresses

Reginae Carter, the daughter of Toya Wright and Lil' Wayne, took to Instagram to share a photo of herself, her mother, and a friend wearing pink ensembles.
The image portrayed Reginae wearing a shiny pale pink gown that had a high leg slit as well as a deep V-cut neckline. As for the accessories, she chose a tiny Louis Vuitton clutch that perfectly matched the rest of her outfit.
Toya was posing next to her daughter in a dress which color was very similar to the one her daughter chose. Toya's, however, was sleeveless and didn't have either a leg slit or showed her décolletage.
One of the most striking aspects of the picture was how similar the pair looked as even their smiles were very similar to each other.
In the caption, Reginae revealed that she and her mother had been in a "beautiful event" and finished by congratulating beauty influencer Ming Lee and her husband on their new baby.
As soon as she uploaded that image, her fans and followers took to the comment section to share their thoughts. One of them was Instagram user @joeann_12, who pointed out that Reginae and Toya looked like sisters – or twins to be more specific.
TOYA'S DEFENDING HER DAUGHTER'S NAME ON SOCIAL MEDIA
A couple of months ago, Toya took to Instagram to share a photo showing Reginae wearing a tight black outfit, long braids, shiny sunglasses, and beautiful boots.
One of the users wrote: "You and resume [Reginae] got the same beautician." Even though it might have been just an autocorrect issue, Toya quickly replied to that comment urging her to stop playing with her daughter's name.
TOYA PAYS ATTENTION TO THE COMMENTS ON HER POSTS
"It's one thing to say that dumb [expletive] under the blog comments but don't try it under mine. It's REGINAE' now Put some Respect on it," wrote Toya.
That might have made people want to think twice before disrespecting Toya's family in her own Instagram account.
Please fill in your e-mail so we can share with you our top stories!