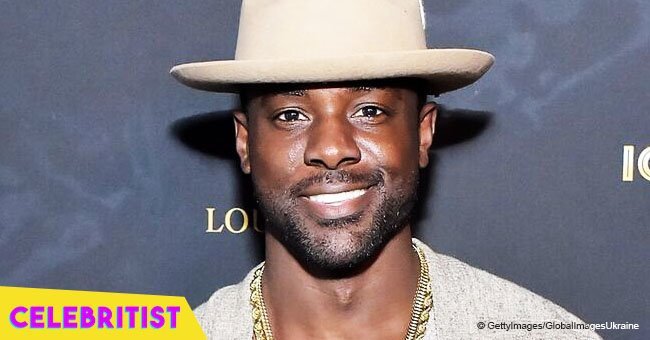 Lance Gross shares pic of newborn son 'chillin' in his favorite lounge spot' after colorism drama

Lance Gross is no stranger to internet backlash and has learned to shut off the noise. The "House of Payne" actor shared a photo of his new-born son chillin' few days after a recent episode of "Internet Trolls versus Lance Gross."
The actor's son, Lennon, was pictured lying on an infant lounger in a black Jodeci-print onesie. The little man clenched his fists and stared adorably at somewhere above the camera. Gross, who is obviously smitten with his new child, accompanied the post with a heartfelt message:
"LL Kool G chillin in his favorite lounge spot! My little already has good taste for quality products and great R&B Groups #youseejodeci #imissmylittleman"
It's good to see Gross share a photo of his lookalike son and not get dragged for it. The 37-year-old "Crisis" star shared a photo of his son on August 1 and noted that he was hyped for the little man's color "comin' in nicely!"
What followed was a barrage of negative comments, mostly bordered on accusations of colorism, directed at Gross. He promptly fired back via Instagram, asking folks not to overindulge the colorism topic:
"While I owe no explanation, I do feel the need to say this colorism topic is setting us back more than you realize (especially on social media)."
"Colorism exists, yes, but y'all not about to label every dark skin Black man who is in a relationship with someone lighter complexion under that bus. I chose love not skin tone."
He also set the record straight for those who insisted he did not like his dark skin:
"Two things I'm proud of is the ability to smile through any situation and the rich melanin that layers my body! For my daughter or son to share that blessing makes me overjoyed."
Gross was thrilled when his wife, Rebecca Jefferson, delivered their baby boy on July 10, two days after his birthday. The excited father gushed:
"Celebrated my born day on the 8th and today I'm celebrating my sons! God is good!"
We're so happy to see Gross revelling in fatherhood; every parent deserves to enjoy their parenting experience!
Please fill in your e-mail so we can share with you our top stories!