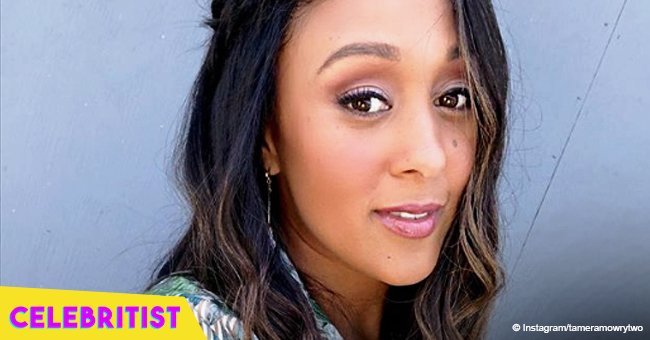 Tamera Mowry's daughter melts hearts in superhero bathing suit in pic
Tamera Mowry baby girl, Ariah, is growing up fast before our eyes. The proud mama shared a picture of her little girl in a cute bathing suit, and the internet is all for it.
Little Ariah, who turned three in July, was pictured in a Wonder Woman-inspired bathing suit and rubber slides. It looked to be a sunny day to have some water fun, and she was making the most of it. In her right hand was a ball of water.
The "The Real" co-host tagged the picture with a caption that revealed her obsession with taking pictures of her mini-me:
"Ummm Mom. Seriously? Another picture?"
The doting mom-of-two, who is married to Fox News correspondent, Adam Housley, has been on vacation with her brood and has been updating followers on Instagram with the cutest pictures. Spain, England, Portugal, and Scotland, are some of the countries the family has been touring.
Despite the challenges of traveling with two kids, Mowry is taking it in her strides and even offering tips and advice to parents who may want to take the plunge too. The "Sister, Sister" actress wrote:
"After a 2 and a half hour train ride to Madrid and a 45-minute wait for a taxi (they decided to go on strike that day!), this one is still smiling. Of course, we've had the normal tantrums or meltdowns while traveling. But my children are surprising the heck out of me on this trip."
"They are genuinely interested in the things we are seeing. It's so beautiful to see them and explore through their eyes. @adamhousley thanks for being the best parenting partner there is. Parents, don't let traveling with your children scare you! It's possible. Just stay prepared with toys, snacks, and keeping them busy has been our trick! Plus, they now have the traveling bug in their systems because of mommy and daddy."
Meanwhile, Mowry confirmed last year that although she's obsessed with her kids, her child-bearing days are over. Not even seeing her twin sister, Tia, pregnant at the time could make her feel like having kids again. She affirmed:
"Usually, this is the time when you think about having another child, but I'm done. …Done, done, done, done, done, done. I love it."
She shares five-year-old Aden and three-year-old Ariah with her husband of seven years.
Please fill in your e-mail so we can share with you our top stories!