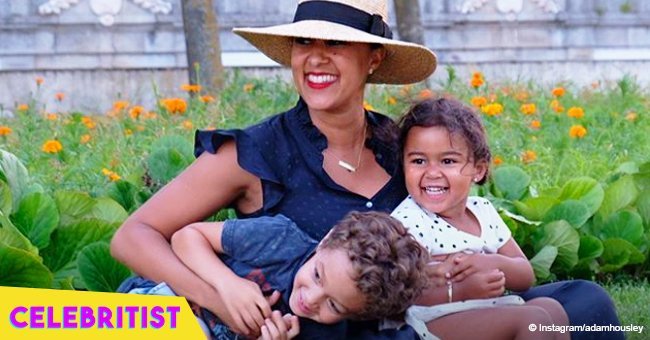 Tamera Mowry's son and daughter hold hands in heartwarming picture
Aden and Ariah, Tamera's kids with husband Adam Housley, make the perfect picture of childhood joy in a photo shared by their mom. Days after the entire family spent a few weeks vacationing around Europe.
Tamera Mowry is a proud mom, and she's not afraid to show it by filling her Instagram page with beautiful shots of her children. Aden, 5, and Ariah, 3, are the cutest siblings as they seem to enjoy each other's company a lot.
The "Sister, Sister" actress often shares pics of the tots running around holding hands, and her most recent photo, which seems to have been taken at the family's winery in Napa Valley, depicts the kids playing in the middle of a vineyard and smiling brightly.
Ariah is the vivid image of her mother wearing an off the shoulder white and yellow striped jumpsuit with a bow in the back, white sneakers and her brown locks tied in two braids. Aden, who looks more like his father, is rocking a plaid t-shirt with blue shorts and white Converse.
"These two," wrote Tamera, earning comments from her loyal fans praising the kids.
One user wrote "They are beautiful this picture looks like an ad for kid clothing line they need to be models," and another added "Awww, just love them! They are the cutest kids! So sweet brother and sister holding hands! Hope they go through life always best buds."
The family just flew back home after spending their summer vacation traveling around Europe. The Mowry-Housley clan visited Portugal, Spain, Scotland, and England, and Tamera made sure to share gorgeous shots of her family in the different landscapes they visited.
To put an end to their adventures, the 40-year-old "The Real" co-host shared a beautiful pic of the family posing in front of their hotel in England and captioned it:
"What a trip of a lifetime. I'm so grateful for the awesome memories we've created with our children. This was our first trip as a family across the pond! Can't wait to do it again! There was and is, still so much to see. #thehousleys"
Tamera also shared some tips for parents who are afraid of traveling with small children, advising them to be prepared with toys, snacks and every other form of entertainment for them. Aden and Ariah surprised their mom with their patience through the trip, and it seems like they inherited the traveling bug from their parents.
"They are genuinely interested in the things we are seeing. It's so beautiful to see them and explore through their eyes," she wrote. "Parents, don't let traveling with your children scare you! It's possible."
Please fill in your e-mail so we can share with you our top stories!