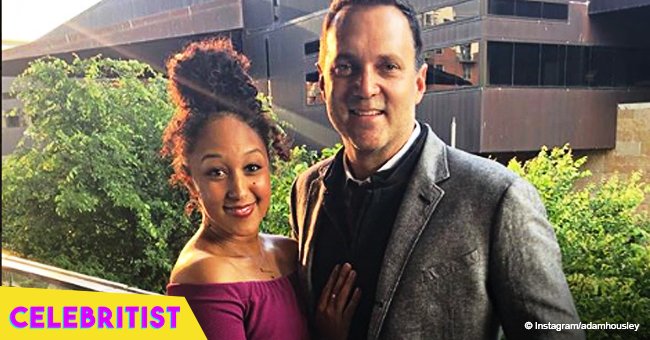 Tamera Mowry's son holds his 2-year-old sister's hand in heart-warming picture
Tamera Mowry's husband Adam proudly shared a heartwarming moment of his two kids holding hands while walking on Instagram.
Just a few hours ago, Adam Housley shared an adorable photo of his two children Ariah and Aden walking on the sidewalk as they held hands. In the photo, the two kids could be seen happily walking alongside each other as they walked towards their dad.
"These two have An amazing relationship. So cool to see. #thehousleys#daddyskids"
While Aden John Tanner seems to resemble his dad more, Ariah Talea Housley seems to have taken after her mom Tamera, just as Tamera once wished.
On an episode of "The Real" where Tamera is one of the hosts, she discussed with her co-hosts how she wished Ariah would be "brown like her".
"This is "The Real" so I'm going to be honest. I really wanted Ariah to really look like me. Like, everything. Everything. I think she has my skin color and my eye color."
However, Tamera shares how Ariah ended up having a big head like her father, but she reassures viewers and her co-stars that she "loves Adam's big head".
It's not just Tamera that's hands on with the kids, but Adam as well, who takes them to do different activities when they please. He even goes so far as to call his two children "daddy's girl" and "daddy's boy", without complaint from Tamera.
"Hangin with my two favorite people in the whole world. #thehousleys#daddylife #daddysgirl #daddysboy"
"Pepperdine with a win for the league title! Jayar and I with the win for dads of the day! #gowaves#pepperdinebaseball#pepperdinebaseballalumni #wccchamps#malibu #thehousleys #baseballdad"
The happy family has always been open to sharing bits and pieces of their lives to fans on social media, especially since their mother and father are both working in the entertainment industry. Tamera is an actress, host, and model, while Adam is an award-winning journalist, and currently works as an LA-based senior correspondent at Fox News Channel. The two got married in 2011, and have had two children since, Aden, 5, and Ariah, 2.
Please fill in your e-mail so we can share with you our top stories!