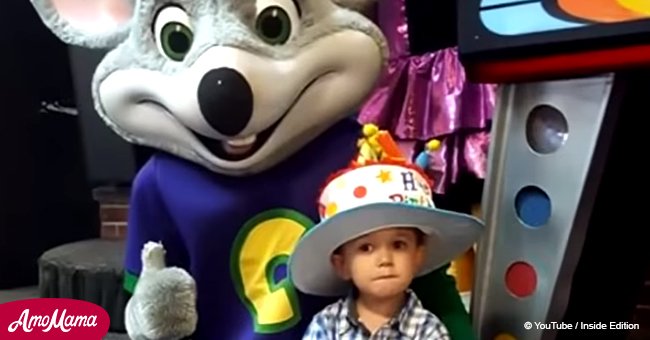 Chuck E. Cheese employees saved 4-year-old boy's birthday
The employee was shocked when she realized what had happened, and was not prepared to leave the little boy with a disappointing memory from his birthday.
Evan Kazanis was celebrating his fourth birthday, and his mother, Angel Kazanis, decided to organize a party at their local Chuck E. Cheese in New Jersey. She invited all 30 of Evan's kindergarten classmates for pizza and games.
But when Evan and Angel arrived, they found themselves alone, and the longer they sat in their designated party booth, the more apparent it became that not one of his friends was going to show up to the bash.
"He was looking at the door," Angel said of Evan's reaction. "You saw the disappointment on his face."
Angel did her best to maintain her composure, not wanting to show her son how upset she truly was that no one had come to celebrate with him.
And she wasn't the only one. Chuck E. Cheese employee Taylor Inzinna was just as horrified that the mother-son duo were sitting alone. So much so that she found herself crying in the kitchen. She quickly decided she needed to do something to make it right.
After her shift ended, she reached out to her family and friends, telling them what had happened, and asking them to donate gifts for the little boy.
In total, she collected more than a dozen gifts for Evan, and then contacted Angel to invite her and her son back to the restaurant for a surprise.
This time, when the little boy walked through the door, instead of being greeted by an empty restaurant, he was greeted by piles of presents to open!
The Chuck E. Cheese mascot was even there to hand him his gifts as he opened them.
"The day he came back in, seeing the smile on his face was everything I wanted," Inzinna said. "I had one goal that day and my goal was to make sure that he left happy. And he left going, 'Oh my God, Mom, this is the best day ever.'"
Angel was overwhelmed at the wonderful gesture, and had a hard time holding back her tears yet again. "They made him feel (like) a million dollars, like he was the most important kid in the whole world," Angel said.
Despite the mountains of praise heaped on Inzinna by netizens, she insisted that the most important thing was to give Evan a happier memory from his birthday, and seeing a smile on his face.
Please fill in your e-mail so we can share with you our top stories!