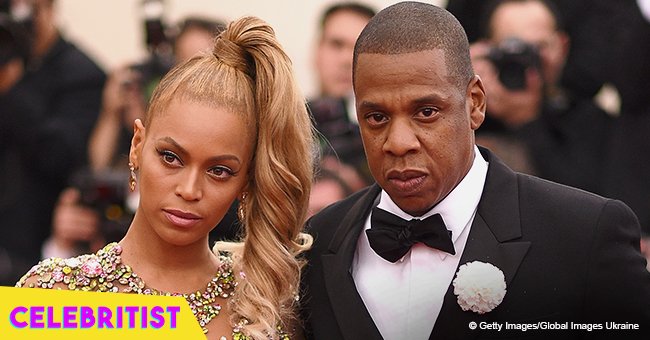 Here's why Beyoncé and Jay-Z didn't attend the VMAs despite multiple nominations

The real reason why Beyonce and Jay-Z were a no-show at the VMA's has now been revealed. People speculated the couple snubbed the event despite their eight nominations, but new reports confirm the couple had a good excuse for their absence.
Beyonce and Jay-Z received eight nominations for this year's VMA awards including Video of the Year. But fans who looked forward to their appearance during the recently concluded awards night were greatly disappointed. The couple never showed up. And while many would assume their absence was an intentional snub of the MTV event, the power pair had a perfectly good reason for missing the show.
Beyonce and Jay-Z have been on the road since June as part of their 'On The Run II' tour. Although they're now in the US after completing their European leg, schedules did not permit them to attend the VMA's. Just two days before the event, they were in Buffalo, New York, after which they staged a show in South Carolina. Their next stop was in Nashville, Tennessee a couple of days after.
With a schedule as tight as theirs, there was no way they could have made it to the awards night where they were vying for eight awards. These include Video of the Year, Best Collaboration, Best Hip Hop Video, Best Cinematography, Best Direction, Best Art Direction, Best Choreography, and Best Editing. Out of the eight, they won two – Best Cinematography and Best Art Direction.
The Carters weren't the only celebrities who skipped the VMA's. Taylor Swift who's also currently on tour was a no-show. She was nominated for three awards including Best Art Direction, Best Visual Effects and Best Editing for 'Look What You Made Me Do.' However, she failed to bag an award.
Another artist who didn't get to attend was Rihanna. She won Best Editing with N.E.R.D. for 'Lemon' but was unable to receive it personally because she's currently traveling. She was in Hawaii earlier in the week to be a bridesmaid for her BFF's wedding and was later spotted filming a movie in the streets of Havana with her co-star Childish Gambino.
Please fill in your e-mail so we can share with you our top stories!