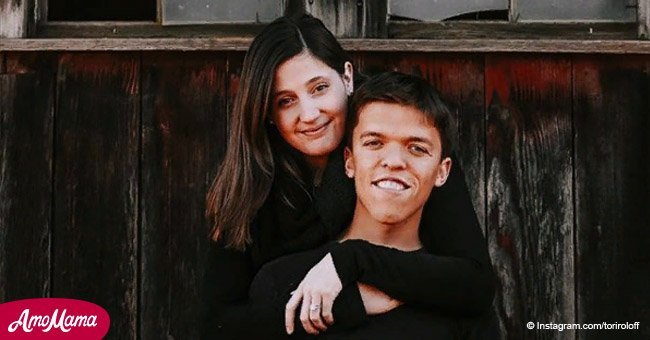 Tori Roloff proves that baby Jackson wants to do everything like his father
Tori Roloff could not handle the cuteness when her baby propped himself under the kitchen sink as he tried to be just like daddy and fix the garbage disposal.
Tori shared the picture on social media yesterday as baby Jackson stepped into action. His dad Zach lay down next to him smiling at his daddy's boy.
Tori captioned the adorable photo:
"Ugh my heart. Jackson wants to do EVERYTHING dad does. I broke the garbage disposal (2 in one year - this whole housewife thing is really working out) and dad swoops in to save the day with his wingman. I love these two so much I feel like my heart may burst. Thanks babe uh."
Followers were also overwhelmed by Jackson's attempts at becoming just like dad. One user named Stacey said,"Omg look at his chubb legs and his little tush!! Ugh so adorbs!! This is the cutest pic!!!"
A woman with username kiss_me_bebe gushed over Jackson's legs, saying "Omg look at his chubb [sic] legs and his little tush!! Ugh so adorbs!!! This is the cutest pic!!!"
Leah Ricker took note of the proud grin on dad's face as he watched his son hold on to a white pipe. She said,"That smile on Zach's face while watching Jackson is everything!!"
The "Little People, Big World" stars often share family moments on their Instagram, and fans love them for it. Jackson, who was born in May 2017, has captivated fans' hearts ever since he entered the picture.
Early in August 2018, the Roloffs shared pictures of a lake visit they took with other members of their family. Their most popular photo was one of Jackson as he sat right in front of the lake, looking solemn and adorable.
But some of those who viewed the picture was worried about Jackson's safety and chastised the parents.
Some said Jackson was too close to the water and "all by his lonesome." The picture features Jackson near the lake and includes a wide span of land around him.
Fans defended their actions, however, saying that there were tons of family members around and someone could easily get to Jackson, who has already begun walking.
The show, "Little People, Big World" is currently in production of season 14.
Please fill in your e-mail so we can share with you our top stories!