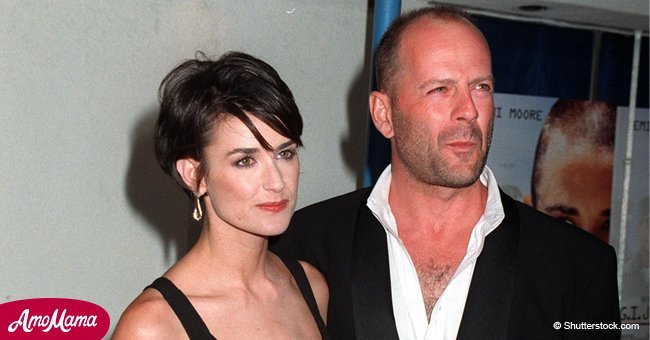 Demi Moore and Bruce Willis reunite in heartwarming photo for daughter's 30th birthday
Separated since 2000, Demi Moore and Bruce Willis reunite once again for the 30th birthday photograph of their eldest daughter, Rumer.
As per a report from People, the pair came together to celebrate their daughter's special day with heartwarming family photographs, in which all three are seen full of smiles and cheers.
The trio was also accompanied by the two other children in the family, Rumer's siblings – Scout and Tallulah.
In one of the series of Instagram pictures, Rumer was seen posing with both the parents kissing her on the cheeks. The image had a sweet caption: 'Thanks for making me.'
Follow us on Twitter to learn more.
Another photo showed the entire family, where Rumer is posing with her mother, father, and both the sisters. She captioned the image as, 'Family.'
The couple has always maintained a healthy relationship with Moore publicly accepting that she is grateful for her ongoing relationship with Willis. The two have remained comfortable with each other as they move forward separately in their lives, according to Today.
The couple has always come together to support their daughter, Rumer. Earlier, they joined her as she won the season 20 of "Dancing With The Stars" and even when she celebrated six months of sobriety last summer.
Similarly, the series of photographs continued with yet another picture of the family posted by Tallulah this time. However, the birthday girl was out of the picture in this one for some reason.
The Instagram snapshots prove that this family is one of those few Hollywood families who has managed to share a close bond despite the separation of a divorce.
People further reported that Willis also enjoyed a dinner with his three daughters on August 16. His 27-year-old daughter, Scout, shared a photo of the foursome posing to the camera with a caption that said, 'Just before we took this photo my dad said, "Hurry up, I have to fart."
The happy family has had a few ups and downs in their life like any other family. Most noticeably, Willis' youngest daughter, Tallulah, went through the issues of alcohol addiction but has found the strength to stay sober after opening up about it on the internet.
Please fill in your e-mail so we can share with you our top stories!