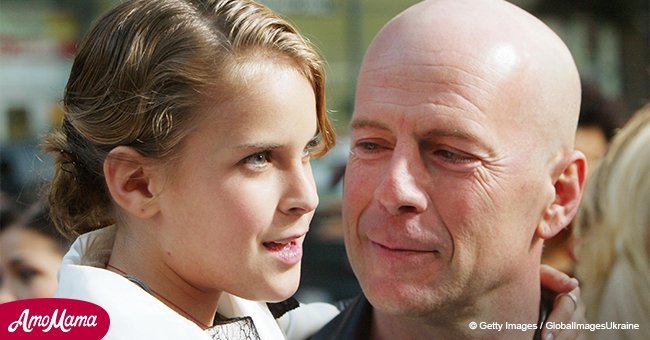 Bruce Willis' youngest daughter was a cute girl until a dreadful addiction 'left her a shell'
Bruce Willis' three daughters have all struggled with addiction in the past, but now they are all sober together.
Tallulah Willis bravely opened up online about her struggles with addiction and how she found the strength to stay sober in an Instagram post that has continued to serve as a beacon of hope to her fans.
Twenty-four-old Tallulah is the youngest daughter of former Hollywood power couple Demi Moore and Bruce Willis. She revealed that she made the decision to stay sober that day due to 'powerful human beings' in her life.
She shared a picture of herself, taken four years ago, on her twenty-third birthday – July 8, 2017. She captioned the picture describing herself as 'malnourished' and describes the toll that addiction took on her.
In a powerful message, she laid bare her soul to 189,000 followers, saying:
"I did not value myself, my life or my body and as such I was constantly punishing for not being enough. Self annihilation fueled with medicating left me a shell, and the world on mute. I was hoisted from my hole, (one so deep I was certain we were nearing the Earths magma core) on the backs of powerful human beings that I will forever be indebted too, and on that day my life was gifted back to me."
"I don't push any agenda, I can only speak for my path and staying sober has been far and beyond the most important thing I've done in my wee 23 years."
Tallulah isn't the only Willis sibling who has struggled with addiction. Rumer Willis celebrated being six months sober on July 1, 2017.
Middle sister Scout also shared her happiness at being one year sober on July 6, 2017. The Willis sisters have all been very candid about their struggles with addiction.
Tallulah attributed her need to rely on substance abuse to her low self-esteem. She revealed that growing up in the spotlight took its toll on her.
"I'm diagnosed with body dysmorphia [because of] reading those stupid f**ing tabloids when I was like 13, feeling like I was just ugly, always. I believed the strangers more than the people who loved me, because why would the people who love me be honest?"
The other two Willis sisters have also attributed their reliance on substance abuse to the same cause.
Now that they have managed to overcome their addictions, they are open and honest about the pressures of Hollywood and the dangers that it holds for young girls and their self-esteem, which hopefully may open the eyes of other Hollywood parents too.
Please fill in your e-mail so we can share with you our top stories!