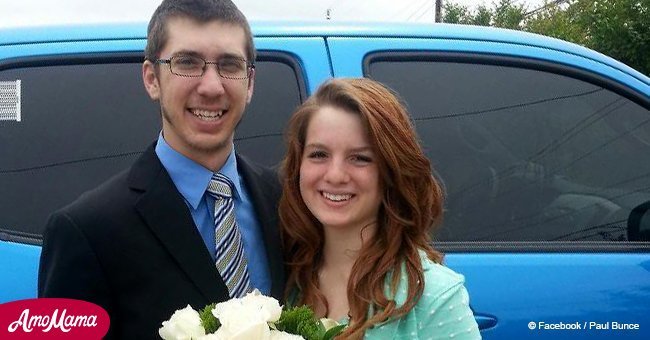 Young mom shot at while feeding baby opens fire on intruders
Samantha Bunce, a combat medic with the National Guard, was at her home nursing her baby when invaders barged in and attempted to shoot her, but soon realized their mistake when Bunce fought back.
21-year-old Bunce was at her home in Charlotte, breastfeeding her then 4-month-old-son in her bedroom, when the intruders burst in through the front door on November 3, 2015, according to WSOC TV.
As soon as Bunce, who also has an older daughter, heard the intruders enter, she took her baby and put him in his crib in the bedroom, and she got a hold of her husband's gun.
Read more on our Twitter account @amomama_usa.
The assailants shot at her from the stairway, but they had no chance of knowing that Bunce had a military background.
Bunce fought back and fired shots at the unwanted visitors. She successfully saved her four-month-old son Bentley and drove the two suspects away, but not before they shot her in the chest and injured her.
Paul Bunce, her husband, was away at work when the incident occurred. Speaking to WSOC, he said, "I think it was a shock to the intruders just as much as it was to her."
He added that his wife's military training helped her to stay mentally strong and focused when she fought for her and son's life.
Charlotte-Mecklenburg Police Department's Capt. Chuck Henson said that Bunce made it through surgery and seemed to be doing alright, adding that his department has added extra patrols in Bunce's neighborhood.
A GoFundMe page was set up for Bunce by her friend, Hollie Ritchie, in November 2015, after the incident took place, to help the mother-of-two with her medical bills.
Hollie Ritchie, Bunce's friend, and fellow soldier was able to help raise a total amount of $65,000 through the page.
Ritchie wrote on the page that her friend was a fantastic mother, wife, friend, and soldier. She added that Bunce would do anything to help people, even ready to give her shirt off her back if anyone asked for it.
Bunce was called a hero by her family, friends, and neighbors, as she got shot but went on to bravely defend her family when the assailants broke in.
Charlotte-Mecklenburg police charged a man for forcefully entering and shooting the young mother inside her home.
CMPD had charged a 23-year-old man named Reco Latur Dawkins Jr., with felony breaking and entering, attempted murder and conspiracy to commit felony breaking and entering, WSOC TV reported.
Please fill in your e-mail so we can share with you our top stories!