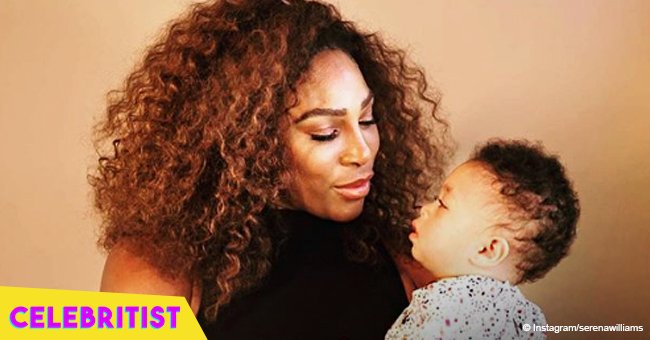 'Mama said knock you out,' Serena Williams talks about motherhood & determination to win in new ad
Serena Williams has become an example to many working moms since making her great comeback to the tennis court after giving birth. In a recent ad for the U.S Open, the 36-year-old sent a clear message to her opponents: "This mama is going to knock you out."
The tennis superstar is ready to prove her worth once again in the tennis court at the U.S Open. She lost Wimbledon in a tight match against Angelique Kerber in the final of the tournament a few months ago. But her failures since she returned to the game after giving birth haven't stopped her from keep on reaching for her dreams.
A 23-times Grand Slam winner, Williams has her goals quite clear: she wants to beat the current record held by the Australian player Margaret Court, who has 24 titles under her belt.
Serena looks fierce in a new ad made in partnership with Chase to promote the upcoming U.S tournament. Images of the champion rocking her daughter, Alexis Olympia to sleep, while humming a song, interconnect with flashes of Serena entering a tennis court with a determinate look on her face as she recites LL Cool J's verses to "Mama Said Knock You Out."
"Don't call it a comeback/ I've been here for years/ Rocking my peers/ Putting the suckers in fear/ Making the tears rain down like a monsoon."
Fans found the ad inspiring and ferocious as it shows that being a mother is not a comeback, but a whole new life experience that women had to incorporate into their routines. And when we talk about working mamas like Serena, being a full-time mother can become quite a challenge.
The video has reached out fans hearts because it shows Serena's vulnerable side with her baby in arms, but it also shows the Serena fans are used to see in the court, determined to succeed and with that glint in her eye that says she's always ready to win.
Williams took to her Instagram to share the ad, and she captioned it:
"Lots of people have called this my "comeback." But becoming a mom isn't something I'm coming back from. It's part of who I am. It's been both incredibly amazing and incredibly tough, but it's only made me stronger. Especially because of the love and support you've all shown me. I'll be playing in the US Open for the first time since having Olympia, and #ThisMama is gonna give it her all!"
THE STRUGGLES OF SEPARATION
With the support of her husband, Alexis Ohanian, Serena has been able to be every day of her daughter's life by her side. Even though she has missed some special moments because of practice, like Olympia's first steps, Williams knows that some sacrifices must be made to keep her career on the top while raising her child.
In a recent interview with TIME magazine, Williams revealed that she had struggled with separation everytime she had to leave her daughter to dedicate some of her time to her career. "I didn't think I'd be this attached," Serena said. "It's difficult to leave her."
Olympia is also a mama's baby. "Sometimes she just wants Mommy, she doesn't want anyone else," Serena confessed. And continued:
"I still have to learn a balance of being there for her, and being there for me. I'm working on it. I never understood women before, when they put themselves in second or third place. And it's so easy to do. It's so easy to do."
Serena will be facing Magda Linette on her first match of the U.S Open on August 27.
Please fill in your e-mail so we can share with you our top stories!