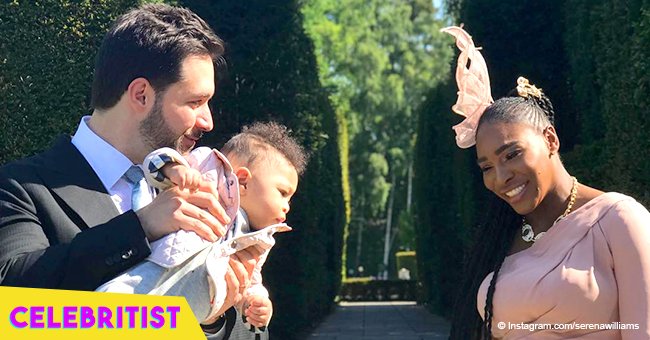 Serena Williams melts hearts while cradling baby Olympia in touching pic
Serena Williams is Time Magazine's most recent cover girl, and her little daughter Olympia joined in on the fun as she joined her mom's photo shoot.
To interview the tennis superstar for her cover story, Time visited the Williams-Ohanian household in Silicon Valley just three days after the worst loss in her 23-year professional career. During the opening round of a U.S. Open tune-up tournament in San Jose, she lost a 6-1, 6-0 match against Johanna Konta.
Although it was only her fifth tournament since giving birth to her daughter almost a year ago, or that in Wimbledon, she made it to the finals, it did not make the loss hurt any less.
Prior to giving birth, Serena's record was stellar, having won 23 Grand Slam titles, one short of Margaret Court's all-time record. The U.S. Open, which begins on Monday, August 27 in New York, is her last chance to even out the score this year. However, with age and the demands of motherhood adding pressure, Serena knows how every chance to improve herself matters, and so she doesn't waste time.
During their interview, Williams was also training for the upcoming tournament, swinging a few hundred balls at a cone target crosscourt. After her fitness guru Mackie Shilstone told her to take a 30-minute break, she insisted on 20 and refused the water he was giving her.
After their first set of exercises, she sits on a wooden bench as she works on something on her phone. It turns out that her daughter, Alexi Olympia Ohanian Jr. just arrived on the scene. Serena then leaps up to help Olympia down the stairs to the tennis court, counting in French.
While she did want to spend more time with her child, Serena wasn't done with her workout. Olympia is led back inside their home while her mother trains hard for her upcoming tournament.
Serena Williams is a working mom like no other, and being one even almost killed her. Her pregnancy journey was easy, but her delivery led to a series of complications, such as a life-threatening pulmonary embolism and hematoma that required surgery. After giving birth, she spent the next six weeks in bed, too weak to get up on her own let alone swing a tennis racket to continue her career.
Even as she continued to regain her strength, the superstar couldn't shake her sadness, and that she had done something wrong. Her attachment to Olympia grew, that it has been so difficult to leave her, proudly sharing that since her birth, they have not spent a day apart.
"I didn't think I'd be this attached. It's difficult to leave her."
The mother-and-daughter duo has gone through many things together in Olympia's 11 months on Earth, traveling to Europe on multiple occasions, and even just lounging at home with Serena's husband Alexis. Although motherhood has made her take a step back in her tennis career, it has been extremely worth it for Williams and she does not regret anything at all.
Please fill in your e-mail so we can share with you our top stories!