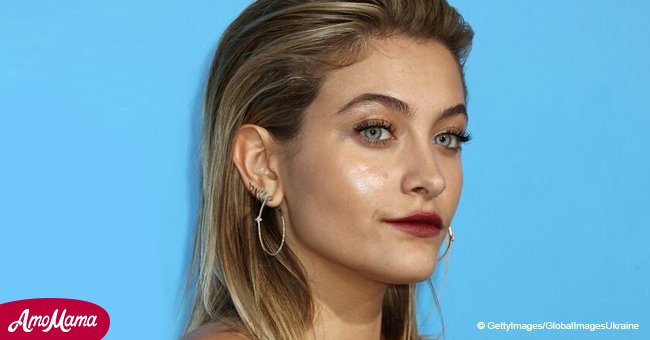 Michael Jackson's daughter's candid confession about being raped at 14
In early 2017, Paris Jackson sat for her first in-depth interview with the Rolling Stone magazine, and she made gruesome revelations that show her life has been far from a fairy tale.
The interview took place months after the daughter of the "King of Pop" turned 18, and seven years after her famous father's death, whose long shadow still influences every aspect of who she is.
Paris was featured in the cover of Rolling Stone's February 2017 issue, and ever the most outspoken of Michael's children she shared never-before-heard details about her life now that she was legally an adult.
Her life has not been easy and on her first interview after the singer's death in 2009, Chanel's young muse opened her heart to talk about suicide, depression and sexual aggression. Read more on our Twitter account @amomama_usa
Growing up as the daughter of one of the world's biggest stars was not a simple task. Paris, like her brothers, has been in the public eye all her life, and things only got worse when Michael was no longer around.
One of the most dramatic experiences from Paris that became known to the public in the tell-all interview was that she was a rape victim at the young age of 14.
All that she said about the perpetrator of this crime was that it was a much older man than her and a "complete stranger."
"I don't wanna give too many details. But it was not a good experience at all, and it was really hard for me, and, at the time, I didn't tell anybody."
Multiple suicide attempts
Paris June 2013's suicide attempt, when she cut her wrists and took 20 Motrin pills, made it to the news, but she shared that it was only one of the many times she tried to take her own life.
Years before it was known that she needed help to overcome her psychological issues, Paris said, she managed to keep her self-harm tendencies hidden from her own family. Fortunately, she assured that those desires are a thing of the past.
"It was just self-hatred, low self-esteem, thinking that I couldn't do anything right, not thinking I was worthy of living anymore," she recalled.
Paris spent most of her school years being home-schooled. It was her own decision, the same one that her two brothers made in their turns since their father gave them the option of going to a regular school.
"When you're at home, your dad, who you love more than anything, will occasionally come in, in the middle of class, and it's like, 'Cool, no more class for the day. We're gonna go hang out with Dad,'" she said.
"We were like, 'we don't need friends, we've got you and Disney Channel!'" added Paris.
Starting in seventh grade, Paris gave it a try at attending a private school, but it was a disastrous experience for the teenager, who had a hard time fitting in, which made her surround herself with the wrong people and make terrible decisions.
"I was doing a lot of things that 13-, 14-, 15-year-olds shouldn't do. I tried to grow up too fast, and I wasn't really that nice of a person," she said.
After her last suicide attempt, she went to a therapeutic school in Utah, and she acknowledges that the institution helped her overcome most of her demons. "It was great for me. I'm a completely different person," Paris shared.
She has no doubts about who her real father was
Paris addressed the rumors that question that she and her older brother Prince are not biological children of the late "Thriller" singer, with several men claiming to be the ones who conceived her.
Her mother, Debbie Rowe, a nurse, was married to Michael for three years, during which, she gave birth to Paris and Prince, even though she never shared a home with the star. After their divorce, Michael had full custody of the children.
According to Rowe, Michael and her conceived both children naturally, and Paris name comes from the city when she was conceived. And Paris certainly doesn't have any doubts about that being the truth.
"He is my father. He will always be my father. He never wasn't, and he never will not be. People that knew him really well say they see him in me, that it's almost scary," she affirmed.
She is now happier than ever
Paris is now in a much better place, as she is completely sober, although she still smokes menthol cigarettes on a daily basis. Her confidence has gone up and she has even landed several acting and modeling jobs.
Still, it goes without saying that her life has its ups and downs. Recently, it has been reported by TMZ that Paris had to hired a fully armed guard to protect her after actor Isaack Kappy allegedly choked her during a game party back in July.