Nurse reunites after 41 years with badly burned baby she saved in the seventies
Amanda Scarpinati got reunited with the nurse who took care of her when she was brought to the hospital as a 3-months-old baby after suffering a third-degree burn.
A video report uploaded to YouTube by Inside Edition explained that all Scarpinati had of the nurse was an old photograph of her featured in the cover of Albany Medical Center's annual report in 1977.
Scarpinati had no way of identifying her or finding out about her whereabouts, but it was always her desire to meet the nurse who took care of her in one of the most difficult times of her life.
The report informed that she suffered the burn after rolling off a couch onto a boiling steam vaporizer. The burns scaled her skin and it required several reconstructive surgeries growing up.
Follow us on Twitter to learn more.
"Growing up as a child, disfigured by the burns, I was bullied and picked on, tormented," she explained in the video. "I'd look at those pictures and talk to her, even though I didn't know who she was. I took comfort looking at this woman who seemed so sincere, caring for me."
Finally, Scarpinati came up with the idea of using social media to find the nurse. She posted the emotional photograph she had treasured for years on Facebook, asking people to respond back to her if they could identify the nurse.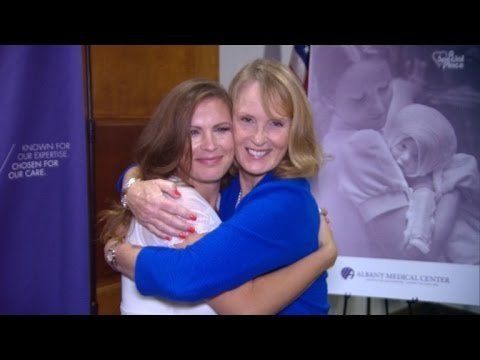 Fortunately, a school nurse in Delmar, New York, Angela Leary, immediately identified the woman as Sue Berger, with whom she had worked over 40 years ago.
After discovering her true identity, Scarpinati arranged a reunion with Berger at the same spot where they formed their close bond, Albany Medical Center.
The two women hugged each other in an emotional and tear-filled moment. Scarpinati admitted that she wasn't prepared for the moment and stated that for her, it felt like hugging her own mother.
Reunions are often overwhelming times as it brings with it years of memories and sweet nostalgia. Here is another story about a heartwarming reunion between a father and a son after 37 long years.