Dog's heartbreaking reaction after being rescued with her puppies
A mother will always want the best for her children, but that is not only typical of the human race and a video proves it.
Dogs are well known for their nobility and loyalty to their owners, so we infer that besides being full of good feelings, they are also able to create indissoluble bonds with those who win their affection.
Because of this, it is evident that if they are able to attach themselves in such a way to a human, the bonds created between them, must be much stronger, especially between mother and children.
A video posted by Twitter user @juanbrunetto, has caused a stir, due to the reaction of a dog, which had apparently been rescued with her puppies.
In the short video of 13 seconds, you can see how a tear escapes from the dog's eye while breastfeeding her puppies. She is then caressed tenderly by a woman.
Mirá cómo reacciona esta perrita luego de ser rescatada junto a sus cachorros 😭😭😭https://t.co/vphWPlob2a

— Prensa PGA 🇦🇷 (@PrensaPGA) August 18, 2018
The video of the momma dog reaction quickly went viral on the networks touching the hearts of thousands of people. Read more on our Twitter account @amomama_usa.
The momma dog's tears not only managed to mobilize the animal lovers, but also permeated those who felt empathy for the fact that it's a mother who had been rescued with her children, and they were beginning a new life.
However, there are a few messages from Internet users who do not believe that the dog is crying, but that it can be a physical illness or a disease that makes her look like she is crying.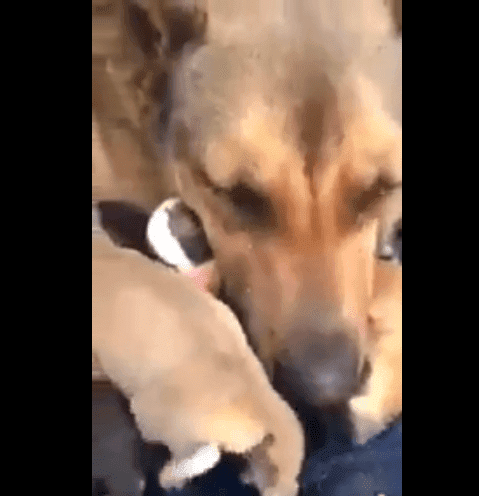 The dog in this video, however, is thought to be suffering from a condition called epiphora, which is a symptom that is commonly connected to other health disorders in dogs.
Epiphora is a common condition that results from insufficient drainage in the eye, causing tears and film that collects over the eye to spill over.
If a dog in your family is showing this symptom, it's not because they're crying with sadness, but there is an underlying issue that needs to be taken care of.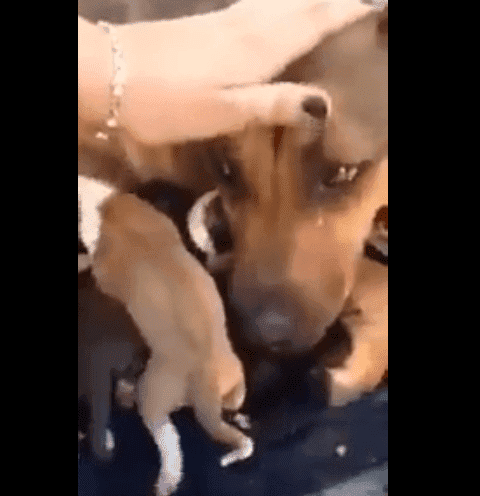 Reach out to a local veterinarian, animal rescue shelter or your region's SPCA chapter to help get your pup the treatment they need.
The truth is that most users seem to have been touched by love and only want the best for this mother and her puppies.