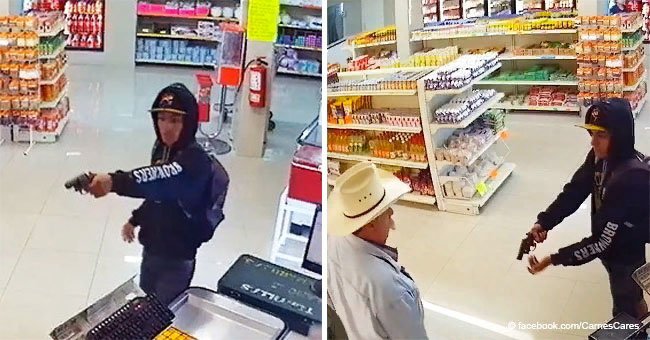 Armed robber pointing gun at man was taught good lesson
An armed criminal tried to rob a shop in Mexico and met with strong resistance from a client who seemed to come straight out of a "Wild West" film.
The footage was caught by the security cameras of a butcher shop named "Carnes Cares" located in the city of Monterrey, Mexico. The shop owners later posted the video on Facebook.
It shows how a hooded young man enters the premises and pulls out a pistol, with which he first points at the clerk and then at a client, a man wearing a cowboy hat. Read more on our Twitter account @amomama_usa
Betrayed by his nerves, the robber tries to control how many people are inside the store, but he makes a fatal mistake: he turns his back on the "cowboy" for a moment.
The cowboy remains calm at all times, even when the robber points the gun at him. He only removes his sunglasses slowly, calculating his next move. But as soon as the robber turns around, the cowboy goes after him.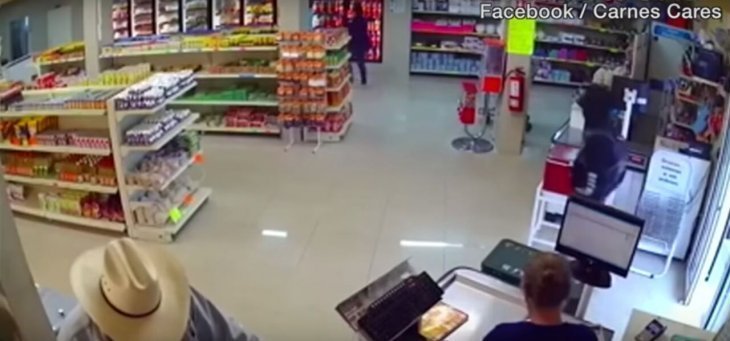 Source: Facebook/Carnes Cares.
Like a predator, he pounces on the criminal and immobilizes him, trying to force him into dropping the weapon to prevent someone from getting hurt. Following a few seconds of struggle, the gun is on the ground.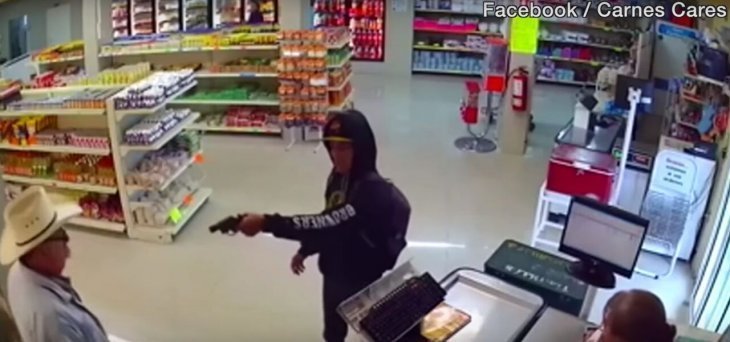 Source: Facebook/Carnes Cares.
With his criminal attempt frustrated, the robber, now unarmed, only wanted to free himself from his captors. He tries as hard as he could to get away from the man in the hat and the two butchers who join him, but they reduce him.
Since their golden era of the Old West ended, real-life cowboys have been overshadowed by Hollywood stereotypes and their almost mythical past. But cowboys are still around, even though they have adapted to the 21st century.
As Slate reviewed, British photographer Peter Byrne documented the lives of contemporary cowboys photographing people from 45 ranches in 12 states of the US, and his work gives a deep insight of what they are like.
Please fill in your e-mail so we can share with you our top stories!