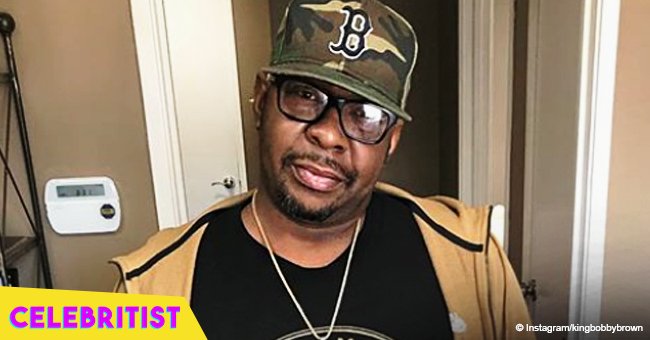 Bobby Brown pays tribute to his 'best friend and brother' 37 years after his death

Musician Bobby Brown took a trip down memory lane with his recent post on his Instagram feed as he posts an old photo of his best friend and 'brother,' Jimmy Flint; following the photo of Flint, Brown also included the photo of his friend's stone tablet.
In a photo posted earlier this week, he commemorated the 37th year of his best friend's death. Sharing how much his friend meant to him, he said:
"37 years ago today is the day I lost my best friend and brother. I wouldn't be the man I am if he wasn't watching over me. Everything that I have experienced has been a lesson that he was always trying to teach me, whether there or here he still w/ me."
Bobby made sure to let everyone know how much his best friend meant to him, saying that he is the person he is today because of Jimmy Flint.
"My love to the Flint family, know that James Jimmy "Jimbo" Flint lives inside of me. With love and respect- STILL RIDING FOR JIMMY."
It comes with no shock that Bobby and Jimmy are the best of friends, especially since they were literally "partners-in-crime". Throughout the singer's younger life, it was Flint who was with him through his ups, his downs, and even his craziest moments.
In a previous interview about his new memoir, Brown mentioned that though his young 12-year-old self once witnessed a murder from a tree at his Orchard Park housing project in Boston, the one that scarred him the most was the murder of Flint, who was stabbed while they were out stealing bikes.
It seems trouble seems to find Brown wherever he goes, as he did not only lose his best friend but has lost practically everyone else that mattered to him, including his ex-wife Whitney Houston and his daughter Bobbi Kristina Brown.
"In the past seven years, I've lost my father, my mother, my ex-wife, my daughter. Right now is when I needed to get everything off my heart, off my mind, clear all the cobwebs out so I can get on with my life."
His daughter Bobbi's memory was brought up recently when the friend who found her unconscious has reportedly suffered the same fate as her.
As previously reported on Celebritist, a source has confirmed that Max Lomas, the man who found Bobbi unconscious in a bathtub, was also found lifeless on the floor of his friend's bathroom with a syringe near his body.
While the young adults all pledged to quit drugs and start having healthier lifestyles during the times of their deaths, it didn't work out and their constant drug abuse led to their horrific fate.
Please fill in your e-mail so we can share with you our top stories!