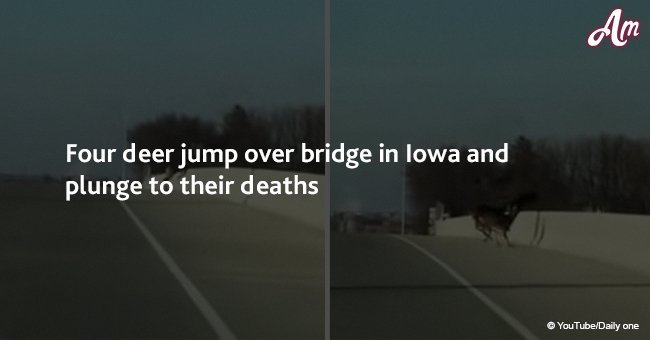 Four deer jump over bridge in Iowa and plunge to their deaths
In a state of distress, four deer plummet to their deaths as they jumped over a bridge in Iowa that was estimated to be 20 to 30 feet high from the ground.
Catherine Veerhusen and her husband saw the entire thing, and Veerhusen was able to capture the jump on camera.
The couple was driving northbound along the 80th Street SW bridge in Cedar Rapids, Iowa when they saw the four animals in front of them.
As they came closer towards the deer, they hoped that they would stay off the road and away from the bridge on the west side.
Follow us on Twitter at AmoMama USA for more viral stories and videos.
Unfortunately, Veerhusen and her husband saw the moment the lone buck ran across the road and jumped over the bridge's west sidewall.
Veerhusen was stunned and horrified after the three does followed the buck and jumped to their deaths.
Speaking with the Des Moines Register, Veerhusen said, "I've never seen anything like this. No words, no words."
A conversation officer with the Iowa Department of Natural Resources in Linn County named Ron Lane visited the scene and found that the buck was nowhere to be found, but the three does have remained.
He suggested that the herd of deer were panicked since they were new to the area.
He said, "The bridge there is brand new. I'm guessing the deer aren't used to that, with all of the construction going on."
As explained by the Cedar Rapids Gazette, the 80the Street SW bridge, which is only a portion of a larger construction project, was only made available for the commuters in October 2017.
Also, it is the second shotgun deer season in Iowa and Lane believed that it added to the panic that the herd possibly felt at the time.
He said, "It sounds like with they were just trying to run across and didn't know where to go."
As for Veerhusen, she posted the video she took on her personal Facebook page, and it immediately gained media attention, receiving millions of views.
Meanwhile, a ten-year-old boy had been helping a blind deer to find food every morning.
Please fill in your e-mail so we can share with you our top stories!