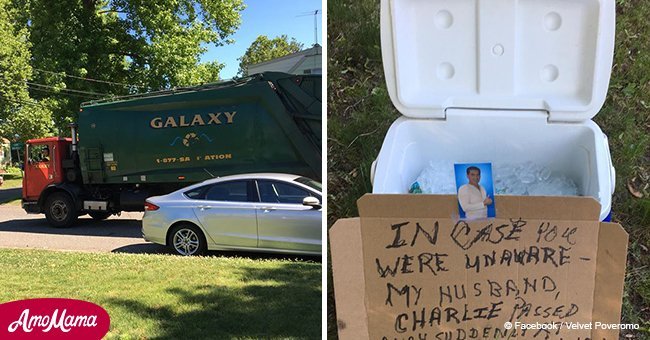 Kind-hearted man passed away but his generosity for city workers lives on

Charlie Poveromo succumbed to a heart attack, but his wife continued the charity he has shown local sanitation workers.
Velvet Poveromo filled a cooler with enough water bottles and placed it where her late husband normally places it.
"So, several weeks ago, as the weather finally started warming up, another 'job' Charlie had taken on occurred to me and, although I wasn't thrilled about it, I had promised myself and him that I would do my best to respect what he had accomplished during his time here, not realizing at the time the joy it would end up bringing me!!" she wrote in a Facebook post.
Charlie passed away at the age of 57 three months before the summer rolled around.
Once the weather started getting warm, she remembered her husband's tradition of giving sanitation workers cold bottled water.
Charity amidst grief
Follow us on our Twitter account @amomama_usa to learn more.
Amidst her grief, she took the water cooler and headed to the store where she filled the cooler with bottled water and placed it where her late husband normally placed it.
When the workers checked the cooler, they noticed a note.
"In case you are unaware, my husband, Charlie, passed away suddenly at age 57 on March 10th. I will do my best to continue to provide bottled water," the note read.
This tradition started eight years ago when Charlie noticed local sanitation workers sweating profusely in the intense summer heat and looking dehydrated.
He went to his kitchen, grabbed a bunch of plastic cups and a big jug of water for the workers. They greatly appreciated the gesture.
Going the extra mile
Charlie decided to do even more. He went to the store and filled his cooler with ice and bottled water. He told the workers that his cooler would always be full and available to them all summer long.
He later added juice and food.
"As word spread, we'd often see not only our sanitation engineers but DPW employees, police officers, firemen, construction workers and the like stop by for a breather, some shade under our tree and a nice cold bottle of water." Charlie's wife wrote.
The sanitation workers were touched by Velvet's determination to continue her husband's. They made sure to show their appreciation.
One day she heard the sound of a garbage truck easing to a stop near her house. He was surprised when she turned to look.
"I watched in awe as each man stepped off the truck, the driver getting out to join them and in a straight line they stood together and saluted our home and me!! As is happening at this very moment, my eyes filled with tears and my body began to tremble as one by one they each came up to me, grasped my hand, gave me a hug and told me how very sorry they were and that no one had ever shown them the thoughtfulness and appreciation my husband had and then slowly, one by one, they each took a water bottle or two, climbed back up on the truck and gave a loud beep as they drove off," she wrote.
An equally moving story is that of a sanitation worker in Ohio who prayed with a man who has Alzheimer's.
Please fill in your e-mail so we can share with you our top stories!