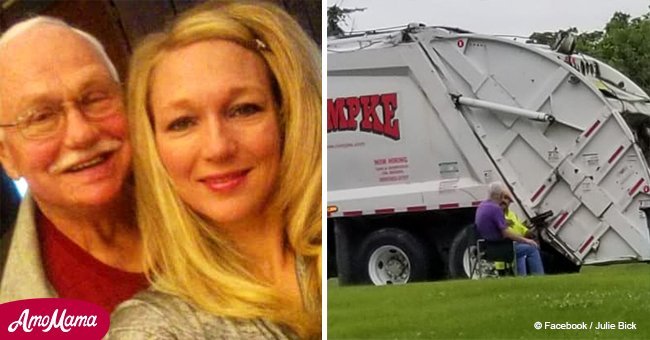 Woman shared touching photo of garbage man praying with her father who has Alzheimer's
The sanitation worker has become a friend and has supported the family with his time and prayers.
Julie Bick of North Bend, Ohio, lives with her father and two children. Her father was diagnosed with Alzheimer's in 2017, shortly after they lost Bick's mother.
Alzheimer's progresses rapidly among the elderly, and the grip of the disease increases exponentially over time. However, a simple gesture by a friend; in this case, the sanitation worker; can be the most beneficial for the patient.
Bick shared the heartwarming interaction between her father and the sanitation worker in a Facebook post.
Bick's father has progressed to such a stage with his disease that he can no longer administer his medicine by himself. Read more about Julie Bick and her father on our Twitter account @amomama_usa.
He also is not allowed to drive or do any household or yard related chores as he may end up harming himself. This makes it very difficult for him to pass his time.
However, research reveals that most Alzheimer's patients like to stick to routines, and if their routine is broken, it makes them more susceptible to an episode, as reported by Happiest.
In Bick's case, her father has one routine, which he likes to stick to every week, and that is to meet their sanitation worker, Harold.
Harold has been their sanitation worker for quite a few years, and unlike other people in his position, he likes to take his time when he comes around to collect trash.
He usually spends some time talking and interacting with Bick's father, and it has now become something her father looks forward to doing everyday.
Recently, when Bick was having a low day, and she couldn't handle the stress, her father went out to meet the Harold and prayed with him to give Bick strength.
This has renewed Bick's 'faith in her father's love,' as she wrote in the post. No matter what stage he reaches with his disease, he will always keep her in mind and that gives her the strength to care for him even more.
Please fill in your e-mail so we can share with you our top stories!