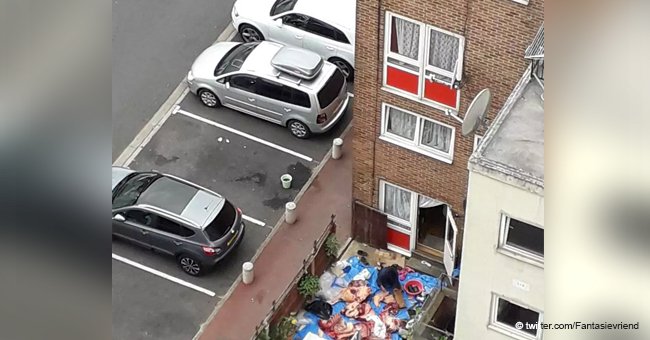 Family filmed butchering carcasses in their backyard
A Muslim family was caught on camera chopping up several chunks of raw meat on top of a tarpaulin in their backyard and their actions are being frowned upon by their neighbors.
The incident took place in Dagenham, Essex, in England, and the case is currently being investigated by environmental health officials after neighbors complained about it.
According to The Sun, the scene was filmed by Julia McClenaghan, whose flat overlooks the yard in which the animal carcasses were being prepared.
The 62-year-old claimed that it seemed one of the least hygienic places to prepare meat that she had ever seen and that the tools were being wiped with an old rag.
Please follow us on our Twitter account @amomama_usa to learn more.
A RELIGIOUS TRADITION
The family was in the middle of their Eid al-Adha, a Muslim festival of sacrifice, celebrations, but it is uncertain whether they slaughtered the animals or were just butchering them.
A woman living at the property, whose identity is yet to be revealed, confirmed that they were preparing the meat for Eid al-Adha, but refused to admit any wrongdoing.
ITS ORIGINS
As reported by The Sun, Anila Baig, who works as a columnist for the news outlet, said that Muslim families used to sacrifice a goat or a sheep as a tradition and divide it into several portions for Eid-Adha.
But although that tradition is quite old, it was shared that it is extremely unusual to witness a family preparing the meat at home since it's generally prepared by a proper butcher.
PROBE LAUNCHED
Mohammed Shafiq, the chief executive of the Ramadhan Foundation, offered his opinion and argued that the family had done nothing wrong in practicing their religion.
So far, no new details regarding the case have been shared with the public, but the Barking and Dagenham Council are investigating the incident.
Please fill in your e-mail so we can share with you our top stories!