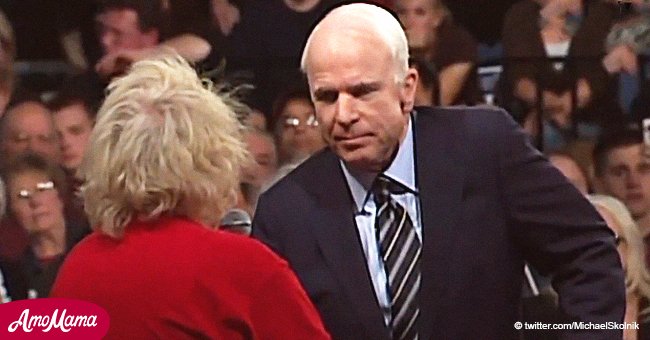 Video of John McCain defending Barack Obama from racist supporter has gone viral

People have started to share a clip in which the late Senator John McCain can be seen defending Barack Obama against a particularly racist remark back in 2008.
Sadly, McCain passed away this Saturday, August 25, 2018, after a long battle with glioblastoma, a brain cancer, which he was diagnosed with back in July 2017.
The video has found its way to Youtube and social media and it depicts McCain defending Obama from a woman who called him an Arab during a 2008 rally.
YOU CAN WATCH THE VIDEO BELOW
The late Senator was walking among the crowd, answering questions from his supporters when he stumbled upon the woman, whose identity is yet to be revealed.
Please follow us on our Twitter account @amomama_usa to learn more.
The supporter started by saying that she couldn't trust Obama and that she had read about him before saying that he was an Arab. She meant to continue her train of thought, but McCain didn't let her finish.
He immediately cut her off and took the microphone back, which he used to tell everyone in attendance that Obama was a 'decent family man and citizen' that he just happened to 'have disagreements with on fundamental issues.'
McCain finished by saying that that was what the campaign was all about and that Obama, who would later become the President of the United States, was not an Arab.
But that wasn't the first time that McCain had to step in and defend Obama. Earlier that evening, a man, who also hasn't been identified, approached McCain and confessed that he was scared of having Obama as President.
The late 81-year-old, who spent five years being tortured and beaten in Vietnam as a war prisoner, replied by saying that no one should afraid of having Obama as President because he was a decent person.
This statement was received with heckles and boos, as well as some light applause, but people online manifested their respect for McCain for standing his ground and not engaging in a race war.
Please fill in your e-mail so we can share with you our top stories!