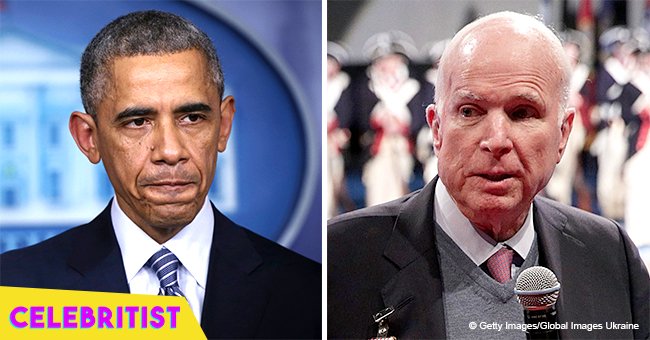 Barack Obama pens heartfelt tribute to Senator John McCain

Despite their political differences, former President Barrack Obama showered the late Senator John McCain with praises in a lengthy tribute he tweeted after the death of his former opponent.
Following the death of Senator John McCain, former President Barack Obama penned a heartfelt tribute for the man he once competed against but with whom he shared "a fidelity to something higher."
On August 25, Obama tweeted a statement on behalf of his family reacting to the death of his former contender. He described McCain as a man who sacrificed for the greater good. Despite their differences, he said he and the late senator had something in common – "something higher- the ideals for which generations of Americans and immigrants alike have fought, marched, and sacrificed."
Obama defeated McCain during the 2008 presidential elections but has shown a public affection for him throughout the years that followed. In 2013, he described his former opponent as a "person of classic integrity" and upon learning of McCain's cancer diagnosis last year, Obama told him to "give it hell."
In his lengthy statement, Obama chose to focus on what he and McCain had in common and not their political differences. Below is the full text.
"John McCain and i were members of different generations, came from completely different backgrounds, and competed at the highest level of politics. But we shared, for all our differences, a fidelity to something higher-the ideals for which generations of Americans and immigrants alike have fought, marched, and sacrificed. We saw our political battles, even, as a privilege, something noble, an opportunity to serve as stewards of those high ideals at home, and to advance them around the world. We saw this country as a place where anything is possible - and citizenship as our patriotic obligation to ensure it forever remains that way.
"Few of us have been tested the way John once was, or required to show the kind of courage that he did. But all of us can aspire to the courage to put the greater good above our own. At John's best, he showed us what that means. And for that, we are all in his debt. Michelle and I send our heartfelt condolences to Cindy and their family."
McCain died on Saturday, at 4:28 pm after deciding to discontinue treatment for his stage four brain cancer. He had been battling the disease since its diagnosis last summer. In a statement released by his family prior to his death, they revealed the senator's strength in trying to survive.
"In the year since, John has surpassed expectations for his survival. But the progress of disease and the inexorable advance of age render their verdict."
McCain announced he was diagnosed with the most aggressive form of brain cancer in July 2017. At the time, he had just had a blood clot above his eye removed through surgery. In September 2017, he opened up to 60 Minutes about his chances and remained optimistic.
"Some say 3 percent, some say 14 percent. You know it's — it's a very poor prognosis. So I just said, 'I understand. Now we're going to do what we can, get the best doctors we can find and do the best we can, and at the same time celebrate with gratitude a life well lived."
McCain was a war hero who died at the age of 81. Reports confirm Obama and former President George W. Bush were among those requested to deliver eulogies during his funeral services which will be held at the Naval Academy. Former Vice President Joe Biden will also reportedly be delivering a speech at a separate service. Meanwhile, President Donald Trump was forbidden to attend the services due to bad blood between him and McCain.
Please fill in your e-mail so we can share with you our top stories!