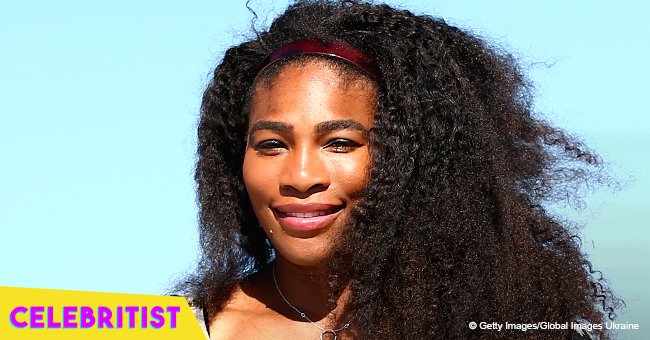 Serena Williams flaunts sculpted leg while posing with daughter Olympia in a stroller in recent pic

Serena Williams shared an important note about motherhood on her latest Instagram post, which showed her flexing her leg muscles while posing with her daughter Olympia.
Passing through a narrow alley, Serena Williams seemed to have found the perfect photo background for a quick snap with her daughter Olympia. While the tennis champion made an effort to pose while lifting her leg up, her little one seemed to have mastered the art of posing effortlessly in her cute little stroller.
Although the adorable photo itself is enough to share it with the rest of the world, it was the caption that made it all the more worthwhile.
Being an international superstar like Serena Williams, she is most likely treated as a VIP everywhere she goes. However, her daughter Alexis Olympia Ohanian Jr. has taught her the importance of humility, despite who she is and whatever she has achieved.
Olympia has journeyed from continent to continent with her mother due to her busy schedule, and this has been quite a ride for the 11-month-old baby. Although there seems to have been no problem so far regarding her constant traveling, there was one particular instance that has humbled Serena.
While on a flight home, the little toddler had so much energy that she kept running up and down the aisle of the plane. When Serena finally got her to sit still, she threw up on her mom and the aisle. This might have been the ultimate test of patience for her or any mother stuck in this kind of situation, but she has decided to take it as a learning experience.
Reminding mothers the importance of supporting each other, she proves how situations like this are a common sight around the world, and instead of judging one another, mothers should be more understanding and supportive.
"Kids humble us. The other day on a flight home Olympia had so much energy and insisted on running up and down the aisle. When I finally got her to calm down and sit still, she threw up all over me and in the aisle. #ThisMama wants to remind all mothers the importance of supporting one another through the highs, lows, laughs and tears."
She then encouraged her followers to share their own stories of motherhood through the hashtag "#ThisMama".
Serena is set to compete in the US Open this week, hoping to redeem herself from her recent Wimbledon experience.
Please fill in your e-mail so we can share with you our top stories!