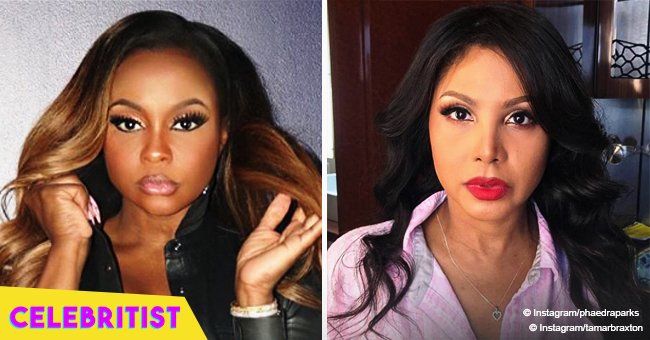 Tamar Braxton breaks silence on Phaedra Parks joining 'Braxton Family Values'

Tamar Braxton has broken her silence about Phaedra Parks joining their reality TV show "Braxton Family Values", saying she is "NOT a Braxton".
Although Tamar has made it clear that she would not be appearing on the show anymore, she made sure to say a thing or two about the show's latest addition, who is set to star alongside Traci Braxton in the series.
According to Traci, she and Phaedra have always bumped into each other, and so when the show was on a hiatus, she decided it would be good to contact Phaedra to go on some adventures with her. Her fellow reality star responded with "Of course, Traci, I would love to do some adventures with you.", and so that's exactly what they did.
The show's hiatus was brought about by Tamar, Toni, Towanda, and Trina walking off the set with their mom last June over a salary dispute. According to Atlanta Black Star, now that the sisters are not going to be appearing on the show, Traci will be continuing on without them with the help of Kym Whitley, Tiffany "New York" Pollard, and rapper Flavor Flav.
Although it turns out that the sisters are set to return to the series, Traci has remained silent about how this will work out in the future now that they've hired new members to join them on the show.
After Traci and Phaedra appeared on Fox 5 regarding the news, sisters Tamar, Towanda, and Trina threw some major shade at their sister and her friend saying that she's NOT a Braxton. While they were out having some drinks, they made sure to express their disappointment about the show's decision.
The Instagram video has been deleted off of her page, but that didn't stop her from airing her side through an Instagram live session during which she said that she felt blindsided by the casting decision as an executive producer who helps finance the series.
"No one is supporting it. No one is watching it. No one is shooting it. No one wants anything to do with it."
Traci previously recalled how her sister said she was "dead to them" after their reality TV feud, which could be another reason why it's been sister vs. sisters between them recently.
Please fill in your e-mail so we can share with you our top stories!