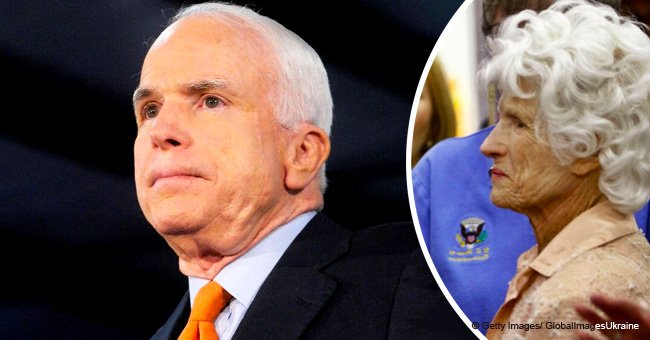 People: John McCain's friend opens up about Senator's 106-year-old mom after his death
Senator John McCain passed away on Saturday at the age of 81 after battling stage-four brain cancer. Now a friend of his has opened up about how the Senator's mother handled his illness.
Roberta McCain turned 106 in February and has outlived her son. The source shared that Roberta had known the extent of her son's illness.
A close McCain family friend revealed that Roberta McCain was "incredibly proud" of her middle child, Senator John McCain. He was a longtime politician and decorated war veteran.
"Roberta was his biggest supporter and the leader of his fan club. She was incredibly proud of him," the source said. "His mommy loved him. He knew that," the insider added.
For more on this story go to our Twitter account @amomama_usa. Although his mother is currently grieving the loss of her son, the source shared that she "is a very strong woman."
"She is all there, mentally, and is still going strong at 106," the friend revealed. "She outlived her 81-year-old son. That tells you a lot. But it's a tough blow to bury your child," the source noted.
The friend also shared that Roberta didn't travel to Arizona following Friday's news that her son would be ceasing medical treatment for glioblastoma. However, the two had spoken on the phone recently, and she knew the extent of her son's illness.
Glioblastoma is the most aggressive form of brain cancer with a median survival rate of just 15 months. John was diagnosed with it in July 2017.
Roberta has been a vocal and proud supporter of her son's political career over the years. During John's 2008 presidential campaign she gave a speech to campaign workers at 96-years of age.
She said, "Johnny is going to be the president of the United States and he's going to keep the traditions … and the standards high."
"All we want is a world where we can raise our children, have a chance at prosperity and happiness, and we can vote any way we want to," she continued. "I can't thank you enough … I wish I could kiss each one of you on the cheek. If I get a chance, I will," John's mother said at the time.
Before his death, John had been spending time on the deck at his Arizona ranch. He was visited by friends including former Vice President Joe Biden in May.
Please fill in your e-mail so we can share with you our top stories!