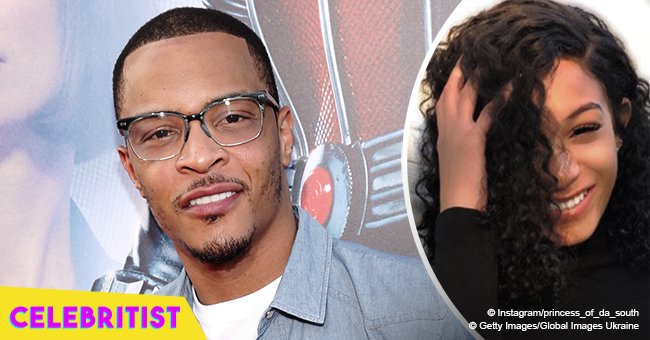 T.I.'s grown daughter shows off tiny waist in skimpy yellow crop top & distressed jeans in pic
Deyjah Harris is no longer the little girl we saw on "The Family Hustle." She's now 17 and making a career in the entertainment industry, following her parents' steps.
She looks stunning in recent pics shared to her social media accounts and is already amassing over 870k followers on her Instagram account.
Harris has quickly become an influencer, promoting several clothing brands like Pretty Little Thing and Fashion Nova.
She is earning more and more fans and followers thanks to her fabulous fashion style and charming personality.
In her most recent set of pics, Harris made fans swoon wearing an off-the-shoulder yellow crop top that put her midriff on display, and paired it with high waisted ripped jeans and a black purse.
In the shot, T.I's daughter with rapper Ms. Niko was captured applying some lipstick as her raven hair flowed down her shoulders and back.
"Y'all sleepin' on me huh, had a good snooze?" she captioned it, earning thousands of compliments as her followers flocked to the comment section. One user wrote:
"Can't nobody sleep on you... Trust! Yo mom and dad fine... It's not even a shock that you are... Ain't nobody sleeping... They just mesmerized."
Another user said Harris was a "pretty girl" but had a warning too: "Don't get too skinny now. I noticed you losing weight."
An Instagram user known only as KinaKards added:
"I just can't believe that this is the same little girl from the TI and Tiny reality show Beautiful just Beautiful."
Harris celebrated her birthday a few months ago, and her father shared a particular Instagram congratulatory post.
It was on her birthday last year that the rapper wrote a lengthy and heartfelt post to encourage his not-so-little-anymore girl.
The proud father wrote:
"Your growth, maturity, & humility continues to amaze me still after all these years. You have a silent strength that comes from an abundance of modest, quiet confidence I don't even think you know you have yet.
T.I explained that watching Harris evolve into the magnificent young lady has been "the most challenging, stressful, yet amazing, incredible things I've ever experienced or witnessed in MY LIFE!!!"
He continued by saying that through all the hardships they have endured in life, Harris has grown up to become the beautiful and smart young lady she is today.
He also added:
"You possess all the best parts of me. Qualities most people would kill to have. Your future is brighter than anyone's eyes can behold. Your potential is limitless. You have everything you need to become ANYTHING YOU DESIRE!!! But no matter what that may be you'll always be good enough for me just the way you are."
T.I has raised Harris to believe she is a queen and must be treated as one.
She made that clear by writing in one of her Instagram posts that there are no boys in the picture for her until she can find one that can love her and treat her like her dad "pops up."
Please fill in your e-mail so we can share with you our top stories!