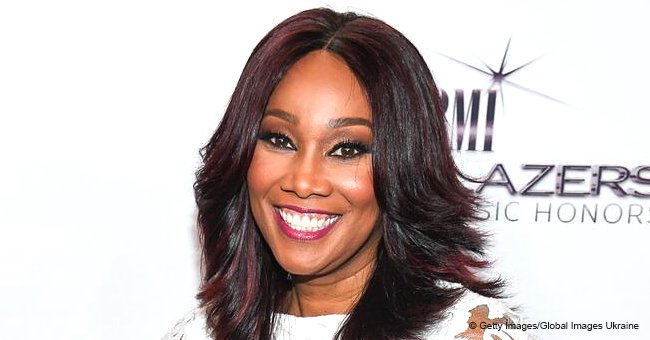 Yolanda Adams' grown daughter stuns in pink mini-skirt & black top in pic from college
Yolanda Adams' only daughter is all grown up and ready for college in a photo the young model recently shared. It was only a few months back when she joined her mother on a Disney Cruise to celebrate her high school graduation. Last year, she delighted in her first runway show.
Gospel singer Yolanda Adams has a lot to be proud of, especially when it comes to her only daughter, Taylor Crawford. The grown beauty is a stunner who's already a model in her own right. Now she's off to college and dressed to impress her new community in a photo she recently shared.
It was only months back when Yolanda announced her daughter would be gracing Christian Siriano's catwalk. She shared a photo of her young lady looking excited as she embarked on her first modeling stint. Taylor was wearing the designer's dress while her mother watched in delight as Siriano looked over her shoulder for the photo.
Flash forward to July this year and Yolanda was celebrating another milestone in her daughter's life –her high school graduation. To mark the occasion, she took her daughter she shares with her ex-husband Tim Crawford on a Disney Cruise Line for a memorable vacation.
Now Taylor is off to college and it's a bittersweet moment for Yolanda. On August 12, she shared a sweet photo of the two of them as she assists her in moving into her college. Taylor sat on her mother's lap like the baby she'll always be to her, a moment most definitely worth cherishing. Yolanda took the moment to remind herself that Taylor will indeed always be her baby in the caption she wrote.
"No matter how Tall. No matter how old, She's FOREVER MY BABY!!! COLLEGIATE MOVE IN DAY!! MY DARLING GIRL."
And it seems the time has come for Taylor to spread her wings as she shared a photo from her university. She wore a short pink mini skirt and a black turtleneck blouse for her first day, and she looked ready to take on college life. Taylor smiled sweetly and seemed to address her mother when she wrote the caption,
"Your gal's in college."
Taylor will surely be missed by her mother who's become accustomed to having her around. She's Yolanda's only child and it may take a while for the Gospel artist to adjust to being alone. It's unfortunate her marriage to Taylor's father ended in divorce after seven years. They called it quits in 2004 citing no concrete reason for the fallout. In an interview about her divorce, Yolanda said,
"There are just times when it just doesn't fit anymore, for whatever reason. When people tell you 'hey I just can't do this anymore, you've got to respect that.' So what you do is you respect that person's feelings, you respect that person's space."
Taylor will just have to keep herself busy with her career now that her daughter will be busy with college life. Last June, she took part in paying tribute to Anita Baker during the 18th annual BET Awards where the iconic singer was honored with a Lifetime Achievement Award. Yolanda sang Baker's hit "You Bring Me Joy" and wowed audiences with her spot-on rendition.
Please fill in your e-mail so we can share with you our top stories!