Octopus gives thanks to man that rescued him
A small octopus made a heartwarming gesture as a way to say thank you to a man who saved it at the beach.
A man named Pei Yan Hang was strolling in Cyrene Beach in Portugal when he laid eyes on a beached octopus struggling to breathe.
The octopus could have been washed by big waves towards the dryland.
After examining the octopus, he saw that it wasn't going to be long before it dies. He decided to do the right thing and help the little octopus head back to the sea.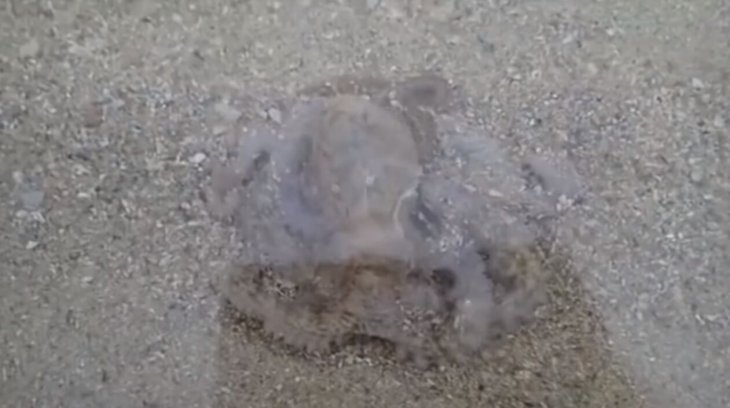 Follow us on Twitter at
AmoMama USA
for more viral stories and updates.
Using a plastic cup, Pei scooped up the octopus and went towards the sea.
Slowly but surely, he released the tiny octopus in the shallow water.
After a few seconds, the dying octopus was brought to life as it changed colors from gray to brown.
The octopus regained its strength and had stretched back to its original size.
Pei thought his interaction with the octopus was over, but he was wrong.
Soon enough, the octopus crawled towards Pei's left boot and had its two tentacles wrapped around it. It was as if the octopus was thanking the man for saving its life.
It made sure to let Pei know that his efforts meant the world to the little octopus.
It remained near Pei's boot for a few more seconds before it slowly removed its tentacles and returned to the sea.
What Pei did may just be a simple gesture, but it was life-changing for the octopus, which was why it probably made sure to let Pei know that it was grateful for what he did.
The original video posted on YouTube, lasting for a little over a minute, quickly became viral and reached more than 11 million views.
Supposedly, many were touched with what Pei did, and many were also amazed at the octopus for its way of saying "thank you" to Pei.
Meanwhile, here is a joke about a man, an octopus, and a bagpipe.