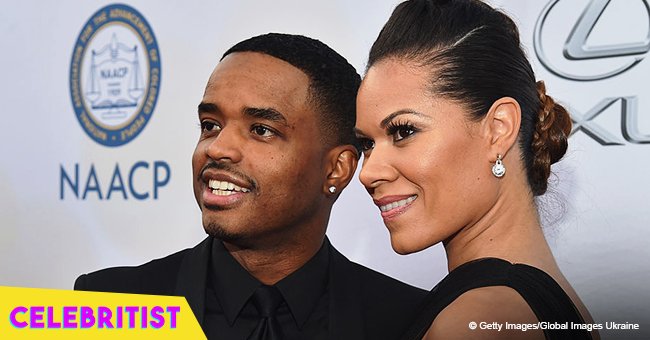 Larenz Tate & wife Tomasina show off her growing baby bump, wearing matching shirts in sweet pic
Larenz Tate and his wife Tomasina proudly showed off her growing baby bump in a new photo of them sporting matching shirts.
Baby number four is on the way for Larenz and Tomasina, and they've been preparing for the baby's arrival in the most adorable ways. Spending the weekend in a fun way, they were seen hanging out with Bill Bellamy and his wife Kristen, sporting matching shirts that had "New Recruit" printed on them with a baby rattle.
In what seemed to be a gender reveal photo for the latest Tate baby, she hinted that their fourth child was set to be a boy. In her caption, she said:
"Beauty and the Boys. How she does it nobody knows... with boy number 4 in the oven it's never a dull moment with the Tates. Can't wait for our new little prince #teamtate"
Previously, Tomasina gave birth to her first three sons, Zander, Zion, and Miles, and in a few weeks, she is bound to welcome yet another boy into her life.
The "draft date" is this September, and so it's only a matter of time before the baby mama pops. Due to the family's low key ways, they have not been spilling the news to their fans themselves. Rather, they have their friends doing that for them.
Previously, Claudia Jordan announced that her friends were expecting their fourth child together. After bumping into one another during the wedding of Tank and Zena Foster, Claudia was able to catch up with the couple, and later on, posted the photos of their encounter on Instagram.
She starts her post by saying "It's been sooooo long!" before spilling the news of Tomasina's pregnancy.
"My girl Tomasina looks so gorgeous pregnant. @larenztate doesn't age and keeps a baby on the way with his lovely wife ! [heart emoji] them together"
Larenz and Tomasina Tate have been married for more than a decade, and they welcomed their third child in 2013. Although the actor once revealed that she was trying to have a private family life, news of their fourth pregnancy spread fast due to the help of their famous friends.
Nonetheless, we can't wait to hear updates regarding Baby Tate Number 4 who is set to arrive anytime soon.
Please fill in your e-mail so we can share with you our top stories!