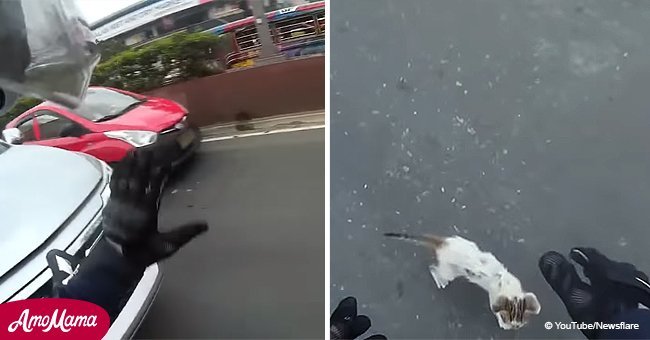 Biker stops traffic to rescue helpless kitten
A biker from the Philippines went out of his way to rescue a cat he found while he was stuck in traffic. The tale of his rescue mission quickly became viral online.
30-year-old Christian Crehencia from Manila, Philippines was on his way home from work when he got stuck in a traffic jam.
Soon enough, he noticed that something was moving in the middle of the road.
It was a small kitten, and it was headed towards the bottom of a silver 4x4 vehicle.
According to Unilad, the kitten had rested under the wheels of the car, and Crehencia knew he had to do something fast to save the cat's life.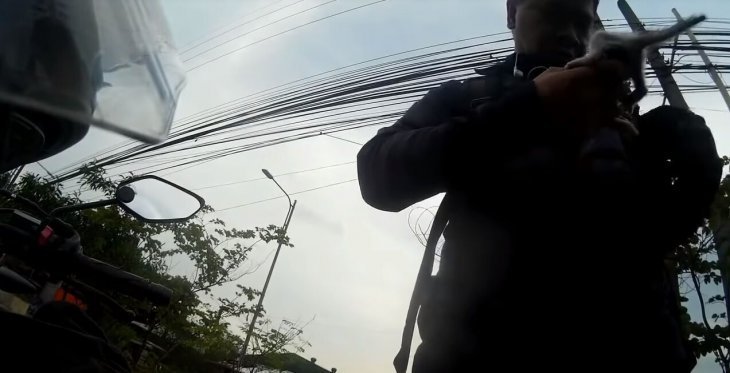 Source: YouTube
Follow us on Twitter at
AmoMama USA
for more viral stories and videos.
While on his motorcycle, Crehencia approached the driver of the truck and alerted him that a kitten was under his car.
Afterward, he crawled under the vehicle and grabbed the terrified kitten.
It wasn't long before the little cat found solace in Crehencia's arms. He found himself taking the poor kitten back home with him.
In the Philippines, seeing stray animals everywhere is a common thing. Unfortunately, the country does not have enough shelters to cater every stray's needs for food and shelter.
Crehencia said, "I'm glad I was in the right place at the right time when the cat needed help."
"I noticed the kitten in the road, and she was just a few inches from the wheels of the jeep. If I hadn't been there she might have been knocked over and killed by one of the passing vehicles," he added.
Crehencia said that he wanted to adopt the cat himself but he has a newborn baby and the infant was allergic to fur. Instead, he gave the cat to his neighbor.
Crehencia said he often checks up on the cat he decided to name Baby.
At present, Baby has been in good hands with her new family. Since their story was posted online, Crehencia – who is a fire inspector – was called a hero by social media users all around the world.
In other news, an orphaned puppy joined a family of kittens after its mother was hit by a car.
Please fill in your e-mail so we can share with you our top stories!