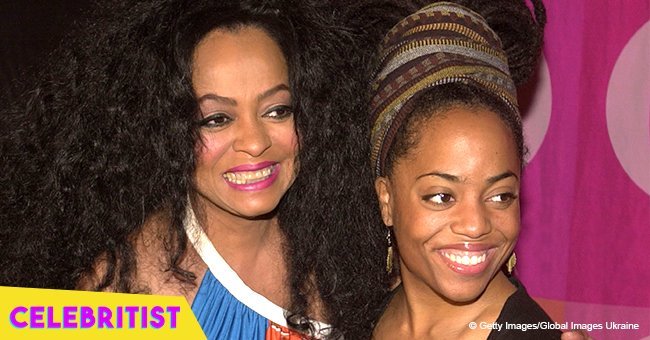 Diana Ross' eldest daughter, 47, does an impressive backflip in recent video

Rhonda Ross clocked 47 on August 14 but in a recent video, the daughter of the Pop legend, Diana Ross, could as well be half her age.
Rhonda shared a video on Instagram, in which she displayed her athletic skills on a trampoline. What makes it more spectacular is that many 20-year-olds will find it impossible to achieve a backflip, yet, the eldest daughter of Diana Ross pulled it off perfectly.
Wearing a brown top with tiny straps, and wide-leg black pants, the mom-of-one bounced around on the huge trampoline before flipping once in the air, much to the admiration of her family cheering on in the background.
LIVING IN HER MOTHER'S SHADOW
The "Another World" actress, who is also a singer like her mother, recently admitted that while there were perks to being the child of one of the world's music icons, she would love to be recognized for her achievements:
"Diana is an incredible woman and a glorious mother. I never play any of her material in my sets as this is my way of setting boundaries. I'm happy for people to be curious about me because of our relationship, but I am not Diana Ross junior. I am Rhonda Ross Kendrick."
MUSIC RUNS IN THE FAMILY
Her music roots run deeper than the woman who brought her to life. Rhonda's father, Berry Gordy is a record executive who had a romantic relationship with Diana for several years. Rhonda's husband, Rodney Kendrick, whom she married in 1996, is also a jazz pianist.
OVERCOMING INFERTILITY
Rhonda's marriage to Kendrick experienced infertility issues and the "Summer Day" singer has been open about all she went through before eventually welcoming their son, Raif-Henok, in 2009.
She recalled having three miscarriages earlier on and how they affected her marriage:
"It was a very difficult time. I think these kinds of things either make or break relationships, and it made ours. Infertility can be really hard, especially on a young marriage."
"Despite wanting to have a child since my 20s and ending up having one, one week before my 38th birthday, the timing was perfect. That's how God works."
Meanwhile, Rhonda, who also owns a real-estate firm, remains committed to her music career and is often in concert at different times with her husband and mother.
Please fill in your e-mail so we can share with you our top stories!