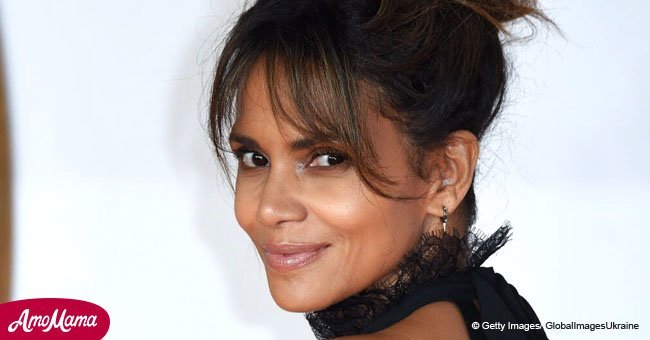 Halle Berry reveals workout secret that keeps her fit at 52

Halle Berry let us in on one of her secrets to a fit and toned body in her recent Instagram post. She ascribed several benefits to boxing, which she's been practicing for 10 years.
Berry is a regular participator of the #FitnessFriday hashtag found on Instagram. In her latest, she let her followers know about one of her best contributors to her incredible shape.
The post pictured Berry about to hit a punching bag with her trainer Peter Lee Thomas. You can see from her expression that she is fully focused. The post is found below.
Follow us on Twitter for more @amomama_usa.
The 52-year-old actress captioned the post and let her followers know a few things about why she's been boxing for 10 years:
"#Boxing is still considered one of the best full body workouts. You'll sculpt every muscle and burn major calories and fat. It dramatically decreases stress levels, develops hand-eye coordination and builds confidence and discipline."
Berry's claims are true. Exercise physiologist for the American Council on Exercise, Jessica Matthews told Shape that in addition to helping "sculpt every muscle," the sport "improves a number of skill-related parameters of fitness, including balance, coordination, reactivity, and agility."
Berry went on to give her own personal boxing journey of non-stop learning and gains:
"...most importantly... you'll never stop learning. I've been boxing for the past 10 years and regularly for the past 3 and I love that I always learn a new way to challenge myself and work new muscles."
She then encouraged fans to take up the challenge for their own benefit and gain the results she's enjoyed for years.
"I challenge you to pick up some boxing gloves and get at it... I promise you'll have fun, get your heart rate up and sculpt your body at the same time!!"
Her followers showered praises on her strength and shape, with a few mentioning how they might try it themselves. Ashleigh Early tagged her friend Rachael Crist with the comment, "Maybe we should try boxing?"
Berry's routine includes a variety of elements in addition to boxing. An earlier #FitnessFriday post showcased Berry's smooth handstand skills.
She explained in her caption how we should learn new skills and not stay stuck in the same circuits. According to Berry, you have to "shock your system and offer your body new exercises that it can respond to.
She added that donkey kicks also helped her increase definition. Prior to that, it was all about encouraging self-defense to her fans so they could also "walk in the world with confidence."
And Berry doesn't forget to keep it balanced with some yoga and meditation with she also posts about on her Instagram page. She says, "I've learned that in my darkest hours, my inner strength is most available to me."
Please fill in your e-mail so we can share with you our top stories!