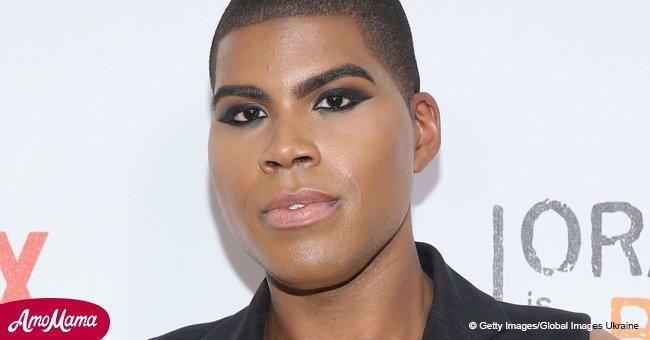 Magic Johnson's homosexual son opens up for the first time about best friend's death

EJ Johnson broke his silence on the death of his best friend Lyric McHenry in an Instagram clap back comment.
His 26-year-old co-star died two weeks ago after attending a belated birthday party. Johnson had until now refrained from speaking on the saddening event.
In response to questioning from the public, the reality TV star Johnson said:
"I'm going to make this clear to everyone there will be no mourning post because I'm not going to reduce a 25yr friendship to 1 Instagram post." He continued, "Please respect my privacy and my process."
Follow us on Twitter for more @amomama_usa.
McHenry's body was found above the Major Deegan Expressway at Undercliff Avenue and Boscobel Place in Highbridge near Bronx, New York at about 5 a.m. on August 14th.
She reportedly died at the Bronx-Lebanon Hospital where she was taken to afterward. People reported that McHenry was 20 weeks pregnant at the time, but it's unclear whether she or her family were aware.
She had been out with friends at The Frederick Hotel, SoHo Grand Hotel, and Dream Downtown according to her Instagram stories that night. EJ Johnson, son of former basketball star Magic Johnson, was not around for the celebrations.
But on McHenry's birthday days before her death, he expressed his love and appreciation for his lifelong friendship with her in an Instagram post:
"Happy birthday to my best friend who has strutted with my [sic] in princess gowns since day 1 @lyrics_leigh words cannot express how much I love and appreciate you in my life. Your constant love, respect, and companionship gives me the confidence to live my truth every single day and I am so blessed that even as baby divas we recognized the greatness in each other. I love you."
Last year, McHenry shared a similar intimate post with Johnson showing the friends' close connection.
She wrote, "Happy birthday to my twin spirit for life coordinated since toddlers." She continued, "I'm so proud of who you are and what you will continue to be! I love you @ejjohnson_!"
McHenry's family released a statement to the People following her death. They expressed thanks to the public and asked them to refrain from speculation about the cause of her death until it was confirmed.
The family described McHenry as a "brilliant, creative and lovely young woman who shared a deep passion for writing, film and a long-standing commitment to social justice."
They said:
"Lyric's warmth, compassion, and energy will be missed by many and the family would appreciate that all speculation surrounding the circumstances of death cease until the real facts are determined during the current investigation by the NYPD and the City of New York."
McHenry attended Stanford University in 2014 where she studied in Paris, France. She spoke fluent French.
McHenry's cause of death has not yet been confirmed.
Please fill in your e-mail so we can share with you our top stories!