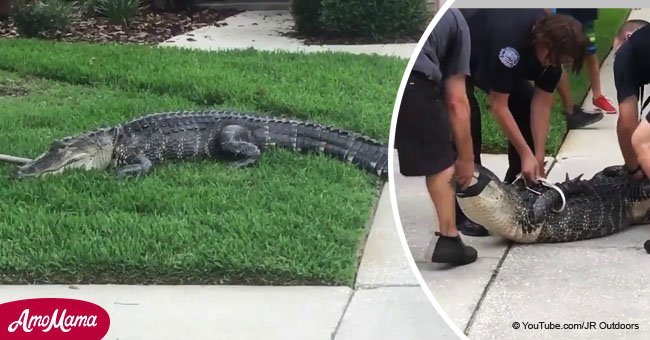 Trapped alligator fights back and knocks trapper out cold
An alligator that was caught wandering around a neighborhood headbutted a trapper that was trying to put him in the back of a pickup truck.
The incident took place in Ocoee, in Orlando, Florida, and aside from knocking the trapper out, the animal also hit two other police officers with its tail.
The moment was captured on camera and the video was immediately uploaded to the internet, where it has been seen by thousands of people, especially on Instagram.
The eight-foot reptile had its mouth and feet bound at the time of the attack, but it was so furious or scared that it wiggled with all its might to break free.
Follow us on our Twitter account @amomama_usa to learn more.
THE KNOCKOUT
The trapper, whose identity is yet to be revealed, was helping his colleagues when he took the full weight of the whipping motion on his face, causing him to blackout.
Residents were watching the scene play as a second Florida Fish and Wildlife trapper was trying to handle the situation as smoothly as possible.
QUITE A FIGHTING SPIRIT
The alligator wiggled so much that its powerful tail hit the other two police officers that were holding him. After that, the reptile simply started walking away while occasionally pausing in the middle of the street.
Walter Day, one of the residents, confessed that it was a very odd thing to watch, especially considering that the Occoe residents live far away from the next body of water.
Florida is famous for being filled with alligators, but, according to experts, they usually only wander from their natural habitat when they are either very hungry or looking for a mate.
CAMOUFLAGED
One needs to be very careful about these animals; not only are they powerful, but they are also masters of disguise. A mother named Nicole Mojica recently took to Facebook to share a chilling video of her son playing next to an alligator.
She was filming her 6-year-old son playing with an inflatable alligator but only realized that the real deal was only standing a few feet away after she stopped recording. Luckily, no one got hurt that day.
Please fill in your e-mail so we can share with you our top stories!