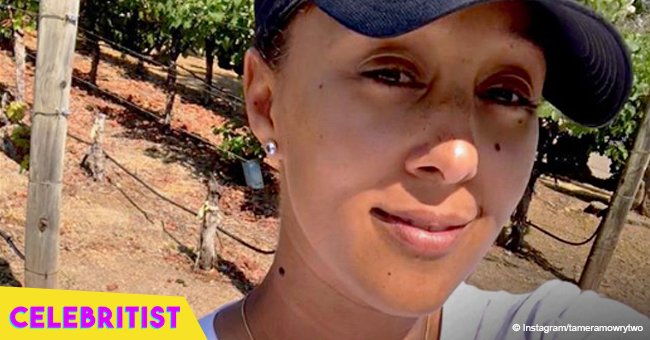 Tamera Mowry's daughter, 3, strikes a pose in mini shirt dress on her 1st day of school in photo
A photo of Tamera Mowry's daughter Ariah ready for her first day in kindergarten is melting the reality star's heart. She admitted crying seeing her daughter happy to be off to school as she realizes her children are growing up fast.
Tamera Mowry's three-year-old daughter is off to school and the moment couldn't be more bittersweet for the mother-of-two. She shared a photo of her little girl dressed for her first day of school and wondered where the time went.
Tamera's older son, Aden, 5 has been going to school the past years and now he's joined by his sister. Tamara revealed she cried sending off her daughter to school realizing both her kids were now students.
The 40-year-old shares her two children with her husband Adam Housley who also rushed home to witness their daughter's excitement on her first day. He posted a sweet photo of her and wrote,
"Made it back from the hurricane in time for her first day of preschool ever. So glad I didn't miss this moment. She was a little scared and shy at first and then was like...see ya mom and dad! I need a coffee. #thehousleys #daddysgirl #firstdayofpreschool #daddylife."
Meanwhile, Tamera's version was short and emotional. She shared a photo of Ariah dressed in a blue striped dress, a pair of blue ribbons in her hair, and white sneakers. The little girl had a wide grin on her face, no sign of separation anxiety there.
Her mother, on the other hand, was feeling sentimental. In her caption, she wrote,
"Yes. I cried!! She went happily! I have two kiddos in school. Where has the time gone?! Photo credit @adamhousley,"
Earlier in the week, Tamera was also feeling nostalgic when she shared a throwback photo of Aden when he was still a baby. She expressed her disbelief over the fact that her son is now in kindergarten and dreaded the thought of him off to college in a blink of an eye.
Tamera is celebrating every moment she has with her growing children realizing they grow up fast. A few days back, she
doted on Ariah
who seemed to have the makings of an actress. The little girl was dressed in a pink tutu and holding up a toy carrot to her mother with a beautiful smile on her face. Tamera couldn't believe what a pro her daughter was with the camera.
Please fill in your e-mail so we can share with you our top stories!