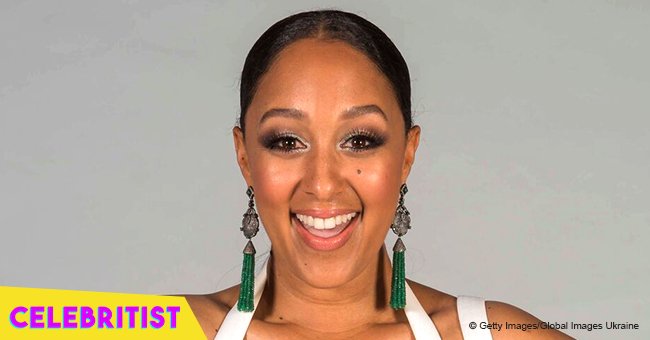 Tamera Mowry's daughter melts hearts in pigtails while posing in pink princess dress in photo
It's been just a few days since Tamera Mowry and her family flew back home from their European vacation, and her daughter Ariah is stealing hearts once again in a recent pic, looking like a little princess.
Tamera Mowry's youngest daughter is the perfect mix between her and Adam Housley, her husband of seven years. Little Ariah inherited Tamera's hair and eye color, something that the actress admitted she had prayed for.
The "Sister, Sister" actress admitted on "The Real" that she wanted Ariah to look like her, since her eldest son, Aden, takes more after his father, with a lighter complexion and green eyes. Her prayers were indeed attended, and the 3-year-old is, according to many fans, Tamera's mini-me.
In a recent pic the 40-year-old shared to her Instagram, Ariah is rocking a pink princess dress with sparkly details, a rose, and a tulle skirt as she sits on the carpeted ground playing with some toys. Her hair was styled in two buns, and she held a carrot toy while smiling brightly to the camera.
"We might have a little actress here. I said: Ariah hold up the carrot and smuyyyyiiiillllleeee! This is what she did," Tamera captioned the pic.
Many fans were confused as to why exactly Mowry believes Ariah's pose hints she could be an actress, and they took the comment section to share their thoughts about it.
One user wrote: "I'm really not trying to be sarcastic. But what about this means she's a little actress? She just did what her mother told her to do," another focused on Ariah's cuteness saying "Ariah is such a little doll who brings joy just looking at her cute little face! What a blessing," and a third one added "She gets it naturally. Apples never fall far from the tree. Like mother, like daughter."
Tamera and her adorable family recently visited Portugal, Spain, and London as part of their first family vacation outside of the U.S. Adam and Tamera had a great time enjoying of the beautiful European landscapes and taking gorgeous pics of their kids.
Mowry wrote few tips for traveling with kids under an adorable pic of her husband lifting Ariah over his head as the lovely girl laughed. According to Tamera, the secret is always to keep the kids entertained and to have snacks at hand when traveling long distances.
"Of course we've had the normal tantrums or meltdowns while traveling. But my children are surprising the heck out of me on this trip. They are genuinely interested in the things we are seeing," she wrote. And added:
"It's so beautiful to see them and explore through their eyes. @adamhousley thanks for being the best parenting partner there is. Parents, don't let traveling with your children scare you! It's possible. Just stay prepared with toys, snacks, and keeping them busy has been our trick! Plus, they now have the traveling bug in their systems because of mommy and daddy."
Please fill in your e-mail so we can share with you our top stories!