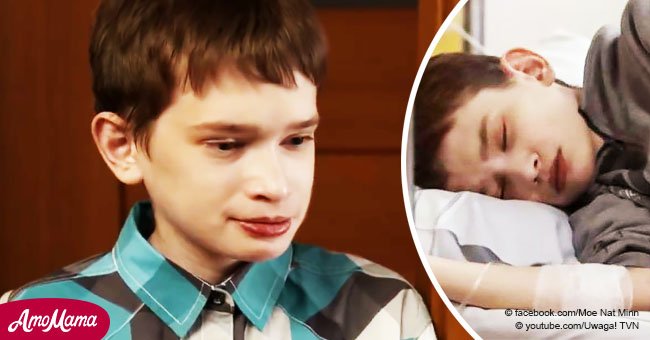 He looks 12 years old but says his life is 'a living hell' because of his real age
This 25-year-old man is going through a very bad condition because he suffers from a rare illness that makes him look like a 12-year-old boy, when in fact he is a man.
The rare disorder with which he lives practically doesn't let him enjoy life since he suffers constant pain and can't even eat on his own.
This is Tomasz Nadolski, a young man from southwestern Poland, and who suffers from a genetic condition known as Fabry disease.
As reported by Metro, it affects the kidneys, heart, and skin of those who suffer. It also causes an accumulation of a type of fat which means that the body can't metabolize the cholesterol molecules.
Tomasz talked about his experience with Fabry in a documentary of his life published on YouTube, whereby he confessed that he would like to see himself as a man of his age and that he detests the boy he sees in the mirror every day, because "it's not me".
It all started when Nadolski was seven years old, and he began to vomit after each meal, besides starting to suffer pains in the stomach, hands, and feet. Read more on our Twitter account @amomama_usa
The boy became so thin that his school friends bullied him by comparing him to a Holocaust Jew.
The doctors could not decipher what was happening to him and suspected that his problems could be more mental than physical and recommended that he should eat more.
He states that the condition has caused his relatives to continue treating him like a child, testing his family relationship.
"When I'm at home, I sit in my room and spend my time alone," he said. "I feel alone and I lack the support of my family, and that is how it has been for many years, and the disease has destroyed our family relationship."
According to him, Fabry has come to affect his daily life to the point that people do not believe that he is actually 25 years old.
"I often go through sad situations. When I show my ID card in the office or if the police arrest me, they accuse me of having a false identification," he explained.
The medicines Tomasz consume are really expensive, but fortunately, the manufacturer of the treatment has agreed to provide him with the medicine for free.
On the other hand, his serious stomach problems mean he can't eat and has to be connected to a road 20 hours a day so he can feed himself enough.
Tomasz also need painkillers, including morphine patches, to help him cope with the pain he feels. His feet are so deformed that he even has to wear special shoes.
He explained: "I feel pain in my joints, bones, and muscles, every inch of my body hurts, I can't sleep and live normally."
How horrible it must be to go through this every minute of the day. We can't wait for the day when doctors know how to help you in the long term and more efficiently.
This case makes us think of a girl going through a similar situation, in which she was diagnosed with 'scleroderma', a condition that sooner or later would harden the soft tissues of her body.
When Shirley Alvarez was nine years old, she was diagnosed with this strange autoimmune disease, which turned her into a 'human doll'.
A few months after his diagnosis, he had become dependent on a wheelchair to get around. Now, at 27, she has turned her diagnosis into a character, calling herself the "tragic doll."
Please fill in your e-mail so we can share with you our top stories!