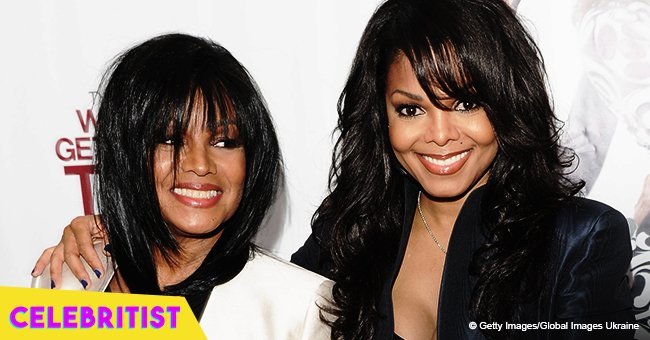 Rebbie Jackson's youngest daughter resembles her aunt Janet in last pic with grandpa Joe

Rebbie Jackson's second daughter, Yashi Brown shared a photo of herself with her late grandpa but she could easily pass for her aunt, Janet Jackson.
GRANDPA'S GIRL
Yashi cuddled up to her late grandpa in the throwback image. Joe sat in a car with the door open and wrapped an arm around his granddaughter, while Yashi leaned towards him and smiled at the camera.
Her caption indicated that it was the last time she took a photo with the late Jackson patriarch:
"My last snapshot with my grandfather, Joe. February 11, 2018. Trust the unique vision the universe puts in each of us and follow it. It was put there for a reason."
JANET AND YASHI COULD PASS FOR TWINS
What was most striking about Yashi's post, however, was the uncanny resemblance she bore to her aunt, Janet. Her followers said as much in the comment section:
"Oh my gosh this is a beautiful pic may he Rest In Peace you remind me so much of Janet in this photo!"- @li.jackson_

"@yashibrown looks just like her aunt @janetjackson"- @msgemini34
MORE THAN JUST A PRETTY FACE
Beyond being a member of the Jackson family, Yashi is making a name for herself as an advocate for mental health awareness and wellness.
She did not just happen to choose a social cause. Yashi knows what it feels like to struggle with mental illness. The daughter of Rebbie Jackson and the late Nathaniel Brown has been living with bipolar disorder since she was a teenager.
Opening up about the severity of her depression, Yashi recalled:
"It became extreme to the point where I began to have altered think. I began to imagine things that weren't well and delusional".
WORDS THAT HEAL THE MIND
Yashi, the author of "Black Daisy in a White Limousine," was diagnosed with bipolar disorder type 1 and schizoaffective disorder. She eventually found succor in poetry, confessing:
"Poetry allows the ability to connect with ourselves as well as connect with others. And I started to really hone in on that. I started to also realize how therapeutic it was, the confidence that it gave me."
Since then, the "People of Poetry" founder has been relentless in her focus on eradicating self-imposed mental health stigma, partnering with various organizations to spread the word of healing.
PRESIDENTIAL HONOR
In 2013, she was invited to the White House by former President Obama for a discussion on stigma reduction strategies. Yashi is also a recipient of the 2016 SAMHSA Special Recognition Award for her efforts in mental health advocacy.
Yashi credits family, friends, treatment, poetry, and her strong spirituality as the secret to her victory over mental illness.
Please fill in your e-mail so we can share with you our top stories!